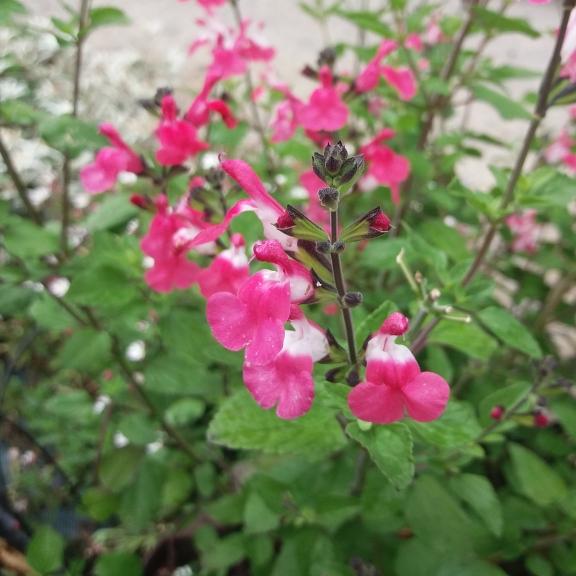 Salvia Pink Lips ® is a magnificent sage with a bicolor flowering. From June to September, delicate white and pink flowers appear on tall upright stems. With its decorative flowering and its compact rounded habit, this variety is perfect in pot or in planter. Honey plant, it will attract bees and butterflies during summer months.
Planting bed, border, pot
Packaging

To find out more about our packaging, please visit our young plants' page available from the website header.

Sold by

Available quantity

Delivery from

Desired quantity

Le stock n'est actuellement pas disonible pour ce produit.
All details concerning Salvia Pink Lips ® :
Salvia Pink Lips ® is a gorgeous sage's variety, that is gifted with a surprising white and pink flowering. In summer, it covers itself with a myriad of white and pink at the bottom, bicolour small flowers. These pretty flowers refresh throughout these five mounths and sprinkle its aromatic foliage. On top of that, pollinator insects love this long flowering's variety.
How to use Salvia Pink Lips ® ?
Salvia Pink Lips ® has a well-rounded habit and very aesthetic upright flowers on its branches. It suits perfectly to pot planting, it reaches 80cm high and 60cm width which creates nice decorative planting bed. It really appreciates sun exposures and is moderately rustic (until -10°C) which is perfect for non-harsh winters' areas.
What advices to achieve the Salvia Pink Lips ®'s growth ?
During the hotest days of the year, Salvia Pink Lips ® will appreciate to be watered. In the winter, pot plantings should be taken under a shelter in case of long frosts.