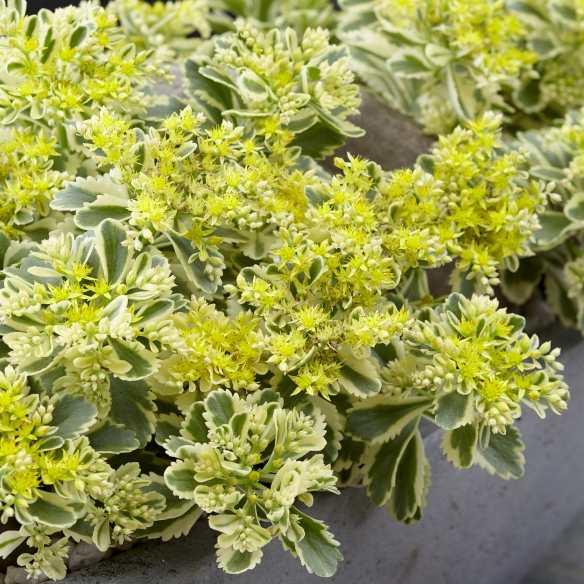 Sedum tekesimense Atlantis®, is a succulent that belongs to the crassulaceae family. It is characterized by its serrated green leaves and bordered by a pretty cream color. In addition, this beautiful fat plant offers us splendid yellow flowers from June to August. In addition to its decorative qualities, Sedum is very tolerant to drought and requires little maintenance.
Ground cover, rockery, pot, churchyards
Packaging

To find out more about our packaging, please visit our young plants' page available from the website header.

Sold by

Available quantity

Delivery from

Desired quantity

Le stock n'est actuellement pas disonible pour ce produit.
All details concerning Sedum tekesimense Atlantis®
Atlantis® Sedum tekesimense has a beautiful evergreen foliage. These leaves are tinted with a beautiful pink colour in autumn. Its flowering takes place from June to August and offers us pretty golden flowers that give off a honey scent. These attract bees and butterflies to the garden. Rustic, this succulent is resistant to frosts of -15°C. In addition, it withstands the worst droughts, while maintaining a green and flowering port.
How to use Sedum tekesimense Atlantis® ?
This pretty greasy plant will make you feel like a ground cover in sunny and dry areas. In addition, it will be perfect in rock gardens or in pots. It is also a good plant for churchyards.
What advices to achieve the Sedum tekesimense Atlantis®'s growth ?
Sedum requires little maintenance and can be adapted to all types of floors. This plant is extremely drought tolerant and likes to be in the sun.