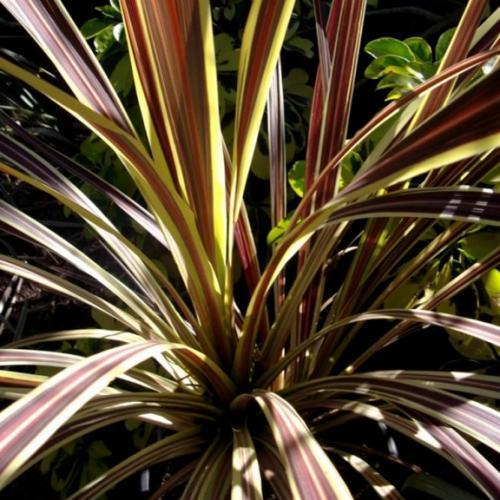 Cordyline x banksii Electric Flash ® is a new Australian procurement. Its bronze metallic, chocolate, red purple, creamy white, green, colours are so striking and sophisticated. Compacted, it doesn't contitute trunk and fits perfectly to small spaces. Its colourful evergreen and ribbon-shaped foliage provides with lightness and exoticism any planting bed, path border, pot, balcony or terrace.
Pot, seaside, isolated, planting bed
Packaging

To find out more about our packaging, please visit our young plants' page available from the website header.

Sold by

Available quantity

Delivery from

Desired quantity

Le stock n'est actuellement pas disonible pour ce produit.
All details concerning Cordyline x banksii Electric Flash ®
This new Australian dwarf cordyline's variety presents really stunning colours : a surprising range from bronze, chocolate, purple to creamy white and green. Like it peers, Electric Flash doesn't create a trunk but a nice dense evergreen foliage that is gifted with ribbon-shaped, bright and variegated leaves, which perfectly suits to small spaces. Between May and July, gorgeous creamy white floral spikes appear and gently contrast with the foliage. This is a Globe Planter's variety.
How to use Cordyline x banksii Electric Flash ® ?
CORDYLINE x banksii Electric Flash ® will provide with a modern and graphic colourful touch any terraces, courtyards, balconies, verandas, as well as oceanic or mild climate's gardens. Sea spray resistant, it is the perfect coastal gardens' plant.
What advices to achieve the Cordyline x banksii Electric Flash ®'s growth ?
We choose a great sunny, drained and filtering place that has a rather fresh soil during the summer. Dryness resistant, nevertheless, summer waterings will foster its growing (even more in case of pot growing). This cordyline is moderately rustic, until about -8°C. We take it indoor or we protect it in case of frost.