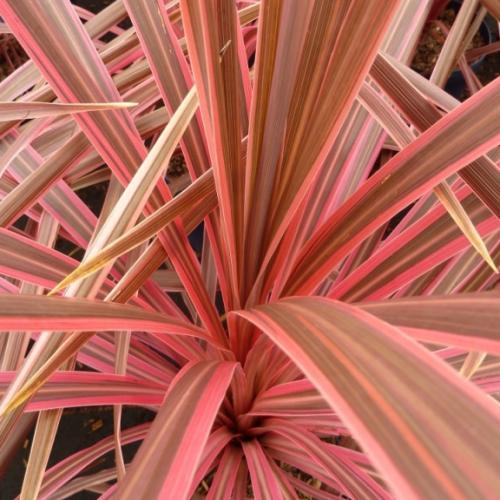 Cordyline Cherry Sensation ® is an extremely modern and coloured selection. Its long ribbon-shaped and evergreen leaves are pink candy, cherry-red and coppery-coloured. It is vigorous and can reach important dimensions with optimal conditions. It dresses itself with large panicles during the summer. Not really rustic, we plant it at the seaside, in warm climate area or we protect it well at the winter time.
Pot, seaside, isolated, planting bed
Packaging

To find out more about our packaging, please visit our young plants' page available from the website header.

Sold by

Available quantity

Delivery from

Desired quantity

Le stock n'est actuellement pas disonible pour ce produit.
All details concerning Cordyline Cherry Sensation ® :
This is a very colourful and flashy selection that is decorative throughout the year thanks to its exotic look and its long variegated foliage which is a gorgeous sweet pink, cherry red and bronze combination. Cordyline Cherry Sensation ® comes from New Zealand and is gifted with a perfumed summer large panicles' flowering. In ideal growing conditions, it can reach great dimensions, thanks to its fast growing, more than 1 or 2m high. It forms a nice palm tree that can produce more branches.
How to use Cordyline Cherry Sensation ® ?
Excepting mild climate, we plant it in large vats easy to take into a veranda or a well-sheltered balcony during winter and especially its frosts. Cordyline Cherry Sensation ® is sea spray-resistant which makes it the perfect coastal garden's plant. It provides with a coloured touches and modernity any balcony or terrace.
What advices to achieve the Cordyline Cherry Sensation ®'s growth ?
We choose a light sun exposure, or a semi shady one, as well as a drained soil rather fresh during the summer (not stagant moisture). Cordyline Cherry Sensation ® is moderately rustic: its foliage becomes worn down since -5°C, its stump dies under -6/-8°C. We take it indoor in case of frost.