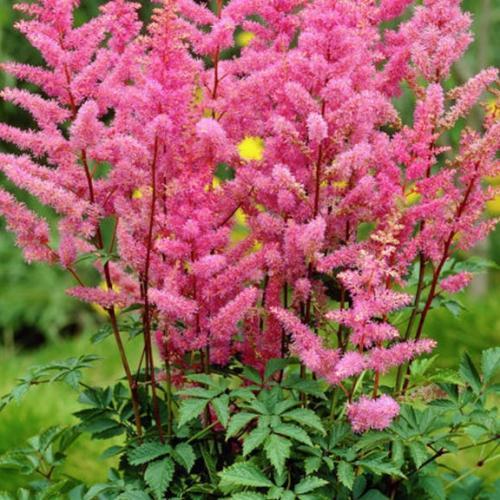 ASTILBE Litlle Vision in Pink ® is a compacted version of the China Astilbe 'Vision in Pink'. In summer, it covers itself up with bright pink feathers, dense and carrefully perfumed. Compacted, rustic, floriferous, more dry-resistant than it peers, with a nice pyramid shape, it embellishes any balcony, terrace, small garden, as well as border or ground cover planting bed.
Terrace, balcony, ground cover, low border
Packaging

To find out more about our packaging, please visit our young plants' page available from the website header.

Sold by

Available quantity

Delivery from

Desired quantity

Le stock n'est actuellement pas disonible pour ce produit.
All details concerning ASTILBE Little Vision in Pink ® :
As it name indicates it, this is a compacted Astilbe chinensis 'Vision in Pink''s version. Its flourishes troughout the summer since July to August/September. Its flowering is pink dense in upright spikes that are cunningly perfumed. It reaches about 40cm height and width and presents a rather pyramidal shape. It is gifted with a deciduous dark and strong foliage, finely choped. ASTILBE Little Vision in Pink ® is amazing in cut flowers. It is really dry-resistant.
How to use ASTILBE Little Vision in Pink ® ?
This variety was selected according to its naturally compacted habit, that enables it to gently suit to small spaces. ASTILBE Little Vision in Pink ® will provide with joy and enthusiam any balcony or terrace (indeed it is perfect in pot), rockery, low border as well as flowerbed or ground cover planting bed.
What advices to achieve the ASTILBE Little Vision in Pink ®'s growth ?
We choose a semi shady exposure. Astilbes are rustic and withstand quite well dryness. Nevertheless, we do not forget to water them, even more if they grow in pot. We cut it flush in autumn or spring in order to foster its growing and flowering.