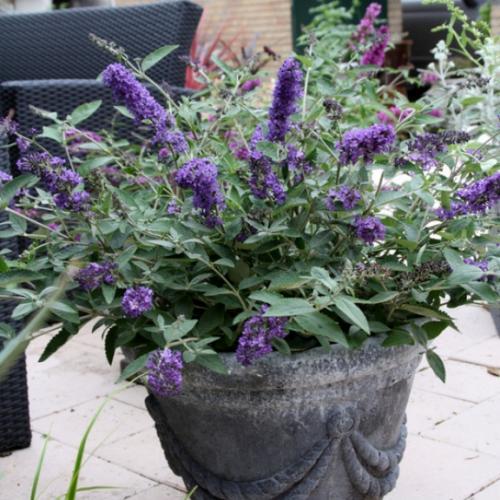 BUDDLEJA Free Petite Blue Heaven ® is one of the recent butterfly bush's selection that are extremely compacted and floriferous. Its large purple blue flowers cover its silver green foliage during the summer and the autumn. These melliferous and perfumed flowers attract butterflies as well as bees. Half evergreen, non-invasive, rustic, dry-resistant and also easy to maintain. It takes part of the Globe Planter's varieties.
Ground cover, low border, balcony, terrace
Packaging

To find out more about our packaging, please visit our young plants' page available from the website header.

Sold by

Available quantity

Delivery from

Desired quantity

Le stock n'est actuellement pas disonible pour ce produit.
All details concerning BUDDLEJA Free Petite Blue Heaven ® :
This is a recent floriferous and compacted American selection (about 60cm in diametre). Its large deep blue purple melliferous flowers attract butterflies and bees. They appear in June and easily last until October/November. This is not an invasive variety, therefore it doesn't spread itself. Its green slightly silver, half evergreen foliage is beautiful. BUDDLEJA Free Petite Blue Heaven ® is a Globe Planter's variety.
How to use BUDDLEJA Free Petite Blue Heaven ®?
Its vigorous and compacted habit, its well-branched asset and its fast growing make it the perfect small garden, rockery, border, pot or direct sun exposed planting bed's plant. Its deflowering is not a problem because it doesn't create any seed.
What advices to achieve the BUDDLEJA Free Petite Blue Heaven ®'s growth ?
Easy to maintain, this dwarf butterflies' shrub Free Petite Blue Heaven ® loves sun exposures and well-drained soils. It is rustic, until about -20°C and also dry-resistant. We do not forget to water it regularly in case of pot growing. We cut its wilted flowers in November and we cut it flush it in March.