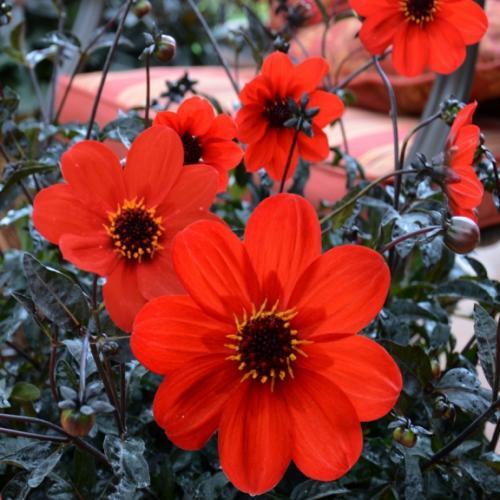 DAHLIA Mystic Enchantment ® the latest arrival of the gorgeous series of "mystical dahlia". We appreciate its bright and sensual carmine red flowering that stands out from a dark foliage. The abundant melliferous flowers appear between June and October, even more thanks to a nice exposure. Easy growing, compacted, vigorous and desease-resistant. It is a Globe Planter's variety.
Planting bed, pot, border
Packaging

To find out more about our packaging, please visit our young plants' page available from the website header.

Sold by

Available quantity

Delivery from

Desired quantity

Le stock n'est actuellement pas disonible pour ce produit.
All details concerning DAHLIA Mystic Enchantment ® :
This bright red flowering selection is the last one of the "mystical dahlias" serie, created by the famous New Zealander Keith Hammett (whose dahlia received awards, especially coming from the Royal Horticultural Society). Its large melliferous flowers are bright carmine red, sensual and form a nice contrast with the dark purple red reflects foliage. DAHLIA Mystic Enchantment ® is really floriferous like its peers (50 to 100 flowers during one season) between June and October (and even sometimes until the first frosts). Easy growing, it is disease-resistant. This is a Globe Planter's variety.
How to use DAHLIA Mystic Enchantment ® ?
This compacted dahlia reaches about 80 cm high. It will provide with elegance small spaces, urban gardens, flowered pots on balcony or flowered borders. It suits perfectly to orchard or vegetable garden too, because it attracts bees and butterflies.
What advices to achieve the DAHLIA Mystic Enchantment ®'s growth ?
DAHLIA Mystic Enchantment ® loves the sun (indeed it will be more melliferous with a sun exposure) but can cope with a little of shadow. We choose a rather drained and rich soil and we water it regularly during the summer. It is rustic until about -6°C (its tubers can be saved during the winter indoor and can be replanting every year). Wilted flowers are invisible which is perfect for lazy gardeners, that don't need to cut them.