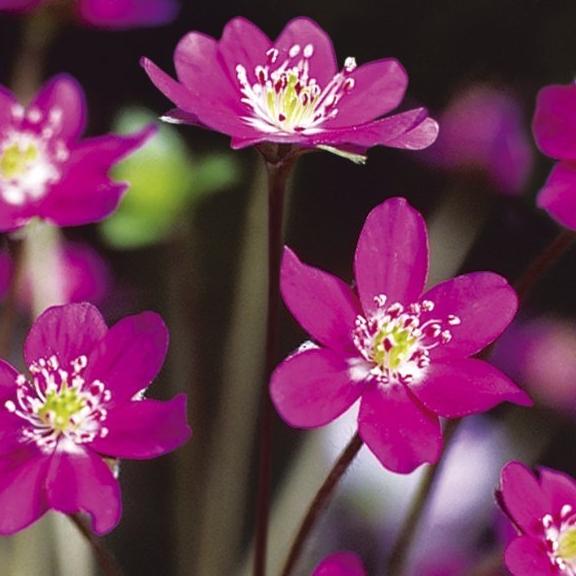 Hepatica Red Forest ® is a beautiful ground-cover restricted to fresh grounds. Its early flowering blossoms at the beginning of spring and until April. On its dark green leaves, numerous bright pink flowers with white stamens appear. Small perennial with delicate flowers, Hepatica offers the advantage not to need maintenance. It brings a touch of colors in fresh shady spaces.
Packaging

To find out more about our packaging, please visit our young plants' page available from the website header.

Sold by

Available quantity

Delivery from

Desired quantity

Le stock n'est actuellement pas disonible pour ce produit.
All details concerning Hepatica Red Forest ® :
Hepatica Red Forest ® is a small perennial variety (10cm x 10cm) gifted with dark green leaves and a spring flowering, in March-April. Its bright pink flowers, that are white at the heart, cover the plant for a short but colourful flowering. Flowers appear at the same time as the first leaves.This variety can give the impression of a pink ground cover, without any leaves.
How to use Hepatica Red Forest ® ?
Hepatica Red Forest ® needs a fresh soil as well as a shady area, therefore it will suit perfectly to behind shrubby layer planting's projects. It is also gorgeous close to shrubs for a ground cover use. This variety can also grows isolated, as long as we choose a layer ables to keep the water. It is rustic until -15°C, and resists gently to tempered winter. Once it is settled, Hepatica is not demanding at all.
What advices to achieve the Hepatica Red Forest ®'s growth ?
A mulch enables to keep the freshness to the ground or the layer that needs Hepatica Red Forest ®.