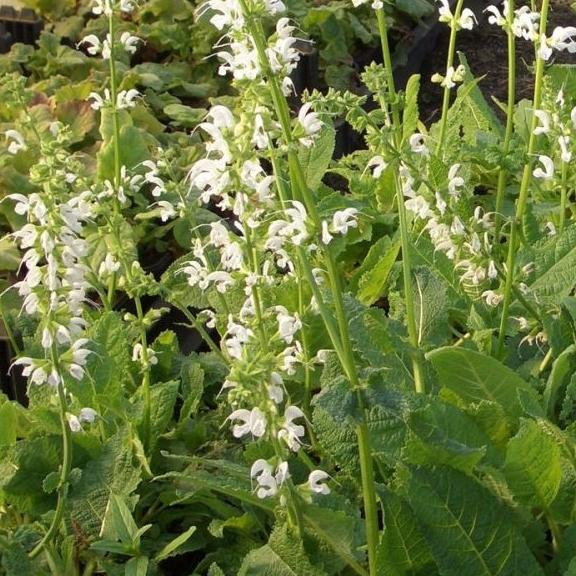 Salvia pratensis Swan Lake is a charming shrubby sage with a beautiful pure white flowering. The flowers, very elegant, appear in June and renew themselves until the beginning of autumn. The foliage is green, a bit embossed. This variety which reaches 60cm height will look good in pot or in planting beds in gardens.
Planting bed, border, pot
Packaging

To find out more about our packaging, please visit our young plants' page available from the website header.

Sold by

Available quantity

Delivery from

Desired quantity

Le stock n'est actuellement pas disonible pour ce produit.
All details concerning Salvia pratensis Swan Lake :
With its pure white sophisticated flowers, Salvia pratensis Swan Lake is a really graphic sage. It is gifted with a long flowering that lasts are the summer round, until the beginning of September. Its flowers are carried by upright spikes. It has embossed deep green leaves that are deeper than its tender green chalice's flowers.
How to use Salvia pratensis Swan Lake ?
Salvia pratensis Swan Lake forms quite free foliage's tufts, that reach about 60cm high and 30cm width. This variety will appreciate a sunny window box, border or flowered planting bed. Very rustic, until -20°C, it perfectly withstand frosts and will provide with joy any tempered climate's gardens.
What advices to achieve the Salvia pratensis Swan Lake's growth ?
Salvia pratensis Swan Lake will need regular waterings during the summer time. During this same period of time, you could boost its late second flowering by cutting its wilted flowers.