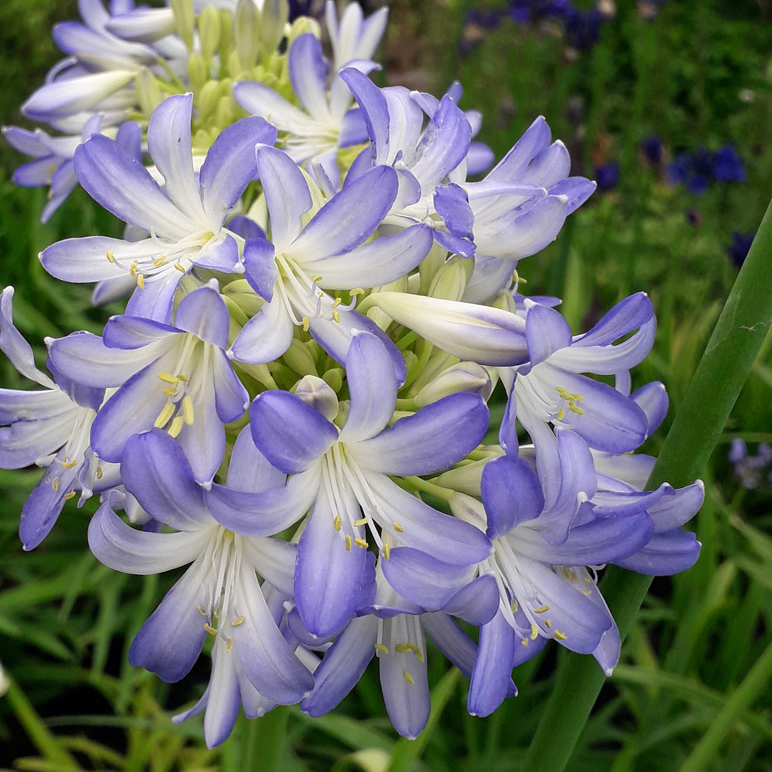 Incredible Agapanthus with white and blue variegated flowers, very bright and unique in the family. The AGAPANTHE Sea Breeze ® is a beautiful variety with large inflorescences and reaches 50cm high.
Download our complete range of Agapanthus in PDF by clicking ici
June to Agust
white and blue variegated
Massifs, borders, pot et containers
Packaging

To find out more about our packaging, please visit our young plants' page available from the website header.

Sold by

Available quantity

Delivery from

Desired quantity

Le stock n'est actuellement pas disonible pour ce produit.
Characteristics of the AGAPANTHUS Sea Breeze ®.

Unique in its flowering, the AGAPANTHUS Sea Breeze ® has an inverted variegation compared to other Agapanthus. Indeed, the flowers are a beautiful lavender blue at the tip, fading to white in the centre. The inflorescences appear throughout the summer on stems up to 50cm high. Its dark green lanceolate leaves are deciduous.
How to use AGAPANTHUS Sea Breeze ®.

Agapanthus are the stars of the summer flowerbeds, the Sea Breeze ® thanks to its moderate size can be planted in the foreground of the beds or in a pot on a terrace or a patio, it can be associated with low grasses and Gauras to bring lightness.
How to grow the AGAPANTHUS Sea Breeze ® successfully.

The AGAPANTHUS Sea Breeze ® should be planted in the sun to ensure a beautiful flowering all summer long. Deciduous, its foliage disappears in winter, it is left in place all winter to protect the plant and is pruned short in March for the next season.