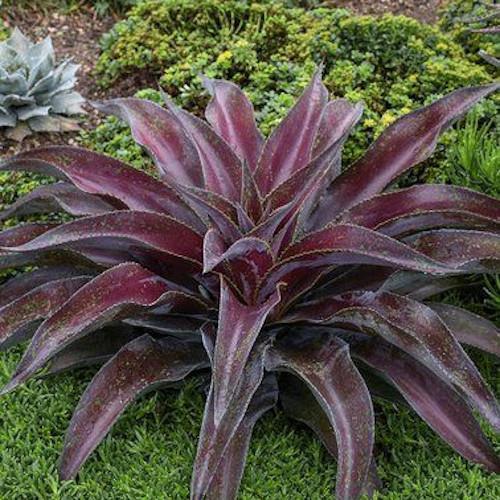 Mangaves or Agave manfredii are hybrids between Agaves and Manfredas. They produce original and remarkable plant varieties in terms of shape and colour. New plants to be included in your catalogue as a matter of urgency. Agave Manfredii Purple Passion has long, fleshy leaves with reddish to aubergine colours.
More details below, download our full range of Mangoes by clicking here.
Packaging

To find out more about our packaging, please visit our young plants' page available from the website header.

Sold by

Available quantity

Delivery from

Desired quantity

Le stock n'est actuellement pas disonible pour ce produit.
Characteristics of the Agave Manfredii Purple Passion (Mangave).

Agave Manfredii Purple Passion is a beautiful variety with a wide, flared rosette. The leaves are thick and slightly waxy, giving them a silvery appearance. The colour varies from green to purple to aubergine depending on the weather conditions. Exposure to sunlight will intensify its violet pigments.
How to use Agave Manfredii Purple Passion (Mangave).

Agave Manfredii Purple Passion is a plant to be planted in rock gardens, cactus beds and other dry gardens for a DRY AND DESIGN. In association with Sedums, Dasylirions, Dianellas, Bulines, Yuccas... It can also be grown in a pot on a terrace or patio, with a pleasant atmosphere. MEXICAN GARDEN ou and porch INDOOR/OUTDOOR GARDEN.
How to grow the Manfredii Purple Passion Agave (Mangave).

The Agave Manfredii Purple Passion should be planted in sunny, well-drained soil. It is best planted in semi-shade in the south of France or in a very warm location. Water regularly in summer and reduce watering in winter. Hardy to -5°C, it can be protected from cold winds or brought inside for the winter.