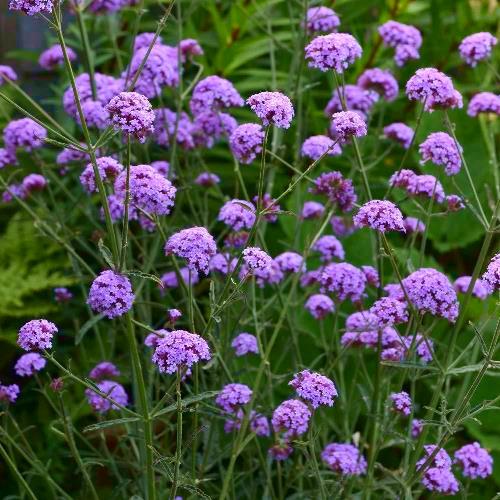 Compact and extremely floriferous. This Buenos Aires Verbena is highly branched and bears numerous lilac inflorescences. Not exceeding 60cm in height, it is perfect for small spaces and for growing in containers. This new dwarf variety is no longer confined to the back of the border!
Packaging

To find out more about our packaging, please visit our young plants' page available from the website header.

Sold by

Available quantity

Delivery from

Desired quantity

Le stock n'est actuellement pas disonible pour ce produit.
Characteristics of the VERBENA bonariense Royal Dreams ®.

This VERBENA bonariense Royal Dreams ® is a very beautiful dwarf variety that bears beautiful little purple pompons throughout the summer. Tiny purple flowers are clustered on stiff, branched stems. It is a melliferous plant and attracts large numbers of butterfly bees for the pleasure of the eyes.
How to use VERBENA bonariense Royal Dreams ®.

Because of its size, this Verbena can finally be placed in the front row of the garden. Not exceeding 60cm, it can be associated and placed in the same row as grasses, Lavender, Gauras... In a pot on a terrace, it will have the perfect proportions.
Advice for successful cultivation of the VERBENA bonariense Royal Dreams ®.

To be planted in a sunny situation so that it expresses its full potential. It is not very fussy about the nature of the soil, but it will appreciate some manure in early spring and good drainage.