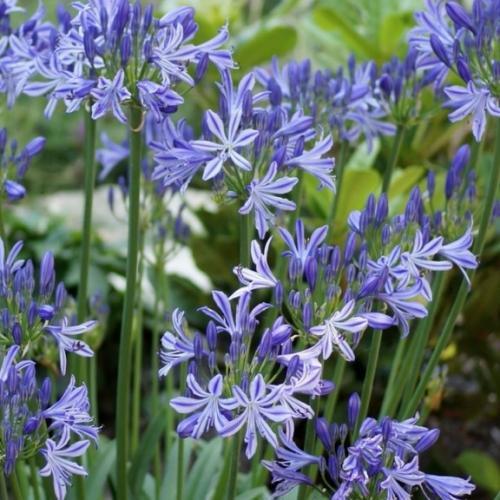 AGAPANTHUS Little Dutch Blue ® is a brand new agapanthe's selection not very known in France. Floriferous and quite compacted, it covers itself up with pale blue carefully striped with purple during the summer. It is the perfect plant for seaside conditions but it also provides with freshness and modernity any garden. It suits to pot's culture as well low border's development.
Planting bed, border, terrace, balcony
Packaging

To find out more about our packaging, please visit our young plants' page available from the website header.

Sold by

Available quantity

Delivery from

Desired quantity

Le stock n'est actuellement pas disonible pour ce produit.
All details concerning AGAPANTHUS Little Dutch Blue ® :
This new variety is a gorgeous evergreen and floriferous agapanthus. Its sky blue flowers are striped with darker purple lines, which provides with elegance and relief the entire plant. Its umbells appear between July and September. AGAPANTHUS Little Dutch Blue ® is moderately compacted (not more than 70cm high) compared to its peers.
How to use AGAPANTHUS Little Dutch Blue ® ?
We plant AGAPANTHUS Little Dutch Blue ® in a large vat so as to embellish any balcony or terrace. Otherwise, it suits amazingly to planting bed. Eventually, its compacted habit makes it the perfect border's plant too.
What advices to achieve the AGAPANTHUS Little Dutch Blue ®'s growth ?
Like the other agapanthus, this variety absolutely loves the sun, as well as a fresh and draining soil. Cut wilted flowers in order to foster new flowers' birth. Protect AGAPANTHUS Little Dutch Blue ® during the winter in the coldest places because it is not very rustic.