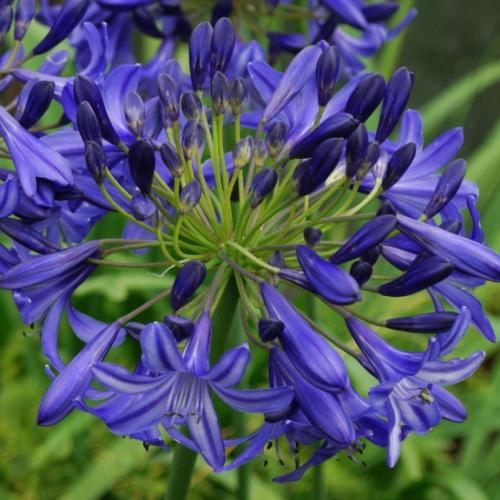 AGAPANTHUS Northern Star ® is a gorgeous and recent agapanthe's variety, gifted with a bright blue carefully variegated with purple flower. Quite rustic for an agapanthe, rather compacted, floriferous, it appreciates sunny expositions. Its numerous umbels will provide with grace bucolic planting bed, border as well as balcony or sheltered terrace.
Planting bed, border, terrace, balcony
Packaging

To find out more about our packaging, please visit our young plants' page available from the website header.

Sold by

Available quantity

Delivery from

Desired quantity

Le stock n'est actuellement pas disonible pour ce produit.
All details concerning AGAPANTHUS Northern Star ® :
This is a new variety obtained in 2008 by Richard John Fulcher (GB). Its charming blue petals are purple blue striped, which provides with freshness and depth any planting bed, for a "starlit night" effect. Its numerous umbells reach about 70 to 80 cm high with maturity, therefore this variety is quite compacted. Deciduous but rustic, it flourishes between July and September. AGAPANTHUS Northern Star ® is amazing in cut flowers.
How to use AGAPANTHUS Northern Star ®?
Combined with grasses, white or blue-black agapanthus, in planting bed, rockery, minerals gardens it is gorgeous. It will illuminate borders and paths, it also suits perfectly to sheltered and sunny flowered pots on terraces, balconies as well as courtyards.
What advices to achieve the AGAPANTHUS Northern Star ®'s growth ?
It preferes the sun, it must be sheltered from the cold winds in a well-drained soil. If it grows in these conditions, AGAPANTHUS Northern Star ® is rustic until -10°C. We water it during its first planting year. Ideal at the seaside.