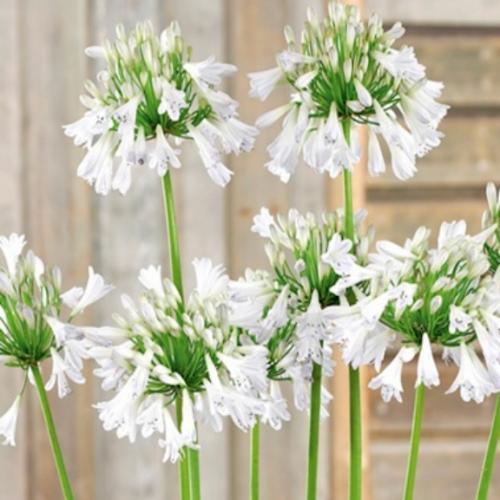 Agapanthus Pavlova was recently selected in New Zealand for its compacted, floriferous and evergreen profile. The umbels are richly gifted with an awesome bright white which provides with liveliness any planting bad or terrace during the summer. Not demanding once it is established, it has everything to please you.
Planting bed, border, terrace, balcony
Packaging

To find out more about our packaging, please visit our young plants' page available from the website header.

Sold by

Available quantity

Delivery from

Desired quantity

Le stock n'est actuellement pas disonible pour ce produit.
All details concerning AGAPANTHUS Pavlova ®:
This is a brand new agapanthus's variety that was selected in New Zealand. Its numerous pure white umbels, extremely dense and furnished, remind us the cream and meringue used for the Russian dessert (Pavlova), where it name comes from. Tubular flowers appear at the spring end and last all the summer round. Evergreen and naturally compacted, it reaches about 50 to 60cm high.
How to use AGAPANTHUS Pavlova ®?
Very decorative and floriferous, agapanthus Pavlova embellishes every single garden and provides it with freshness and modernity, as well as planting bed, rockery and border. The nice frank green foliage's tuft, surrounded by a white crown, is also amazing in pot on terraces or sheltered balconies.
What advices to achieve the AGAPANTHUS Pavlova ®'s growth ?
AGAPANTHUS Pavlova requires a sun exposure (or just a bit semi-shady exposure) and a drained soil. It needs water during its growing, nevertheless it is not really demanding once it is settled in the garden. It suits perfectly to seaside conditions. We cut wilted flowers in order to foster new ones' flowering. We don't forget to protect it in winter.