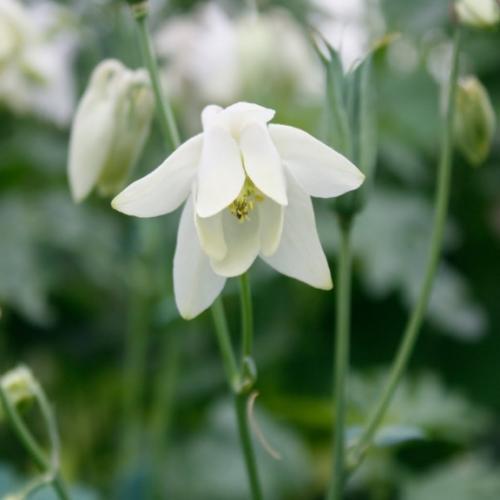 AQUILEGIA flabellata var Pumila Alba is a Japanese columbine's variety, truly original and gifted with a sophisticated pure and matt white flowering. Naturally compacted, its blue green foliage is amazingly decorative and divided. It provides with elegance ground cover planting bed, as well as rockery or terrace. Easy to maintain and rustic as long as it is not exposed to drought.
Planting bed, flowerbed, balcony, terrace
Packaging

To find out more about our packaging, please visit our young plants' page available from the website header.

Sold by

Available quantity

Delivery from

Desired quantity

Le stock n'est actuellement pas disonible pour ce produit.
All details concerning AQUILEGIA flabellata var Pumila Alba :
This Japanese aquilegia's variety is called Pumilla or Pumila Alba. Its matt white flowers, are extremely pure. They appear in spring and last until the beginning of summer. They have specific star shaped flowers. At its foot, it forms a nice tuft gifted with several lobes' rosette of leaves. Its green blue foliage is very divided and decorative. AQUILEGIA flabellata var Pumila Alba reaches about 20 to 30 cm high and stays naturally compacted.
How to use AQUILEGIA flabellata var Pumila Alba ?
We keep it for flowerbed or rockery, where it is stunning combined with other compacted and floriferous plants. We can mix it with other diverse coloured aquilegias. AQUILEGIA flab var Pumila Alba shapes a really charming ground cover and can also grow in pot in order to provide with freshness and elegance balconies and terraces.
What advices to achieve the AQUILEGIA flabellata var Pumila's growth ?
Alba L'AQUILEGIA flab var Pumila Alba is very rustic, a great cold-resistant, nevertheless, it can not withstand burning sun or dryness. We choose a sun exposure to a semi shady one. We offer it a fresh soil. We also cut its wilted flowers in autumn. It is easy to cultivate and not demanding.