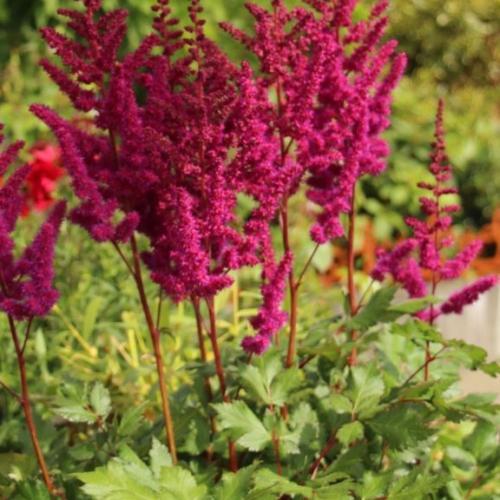 ASTILBE Little Vision in Red ® is a compacted version of the Chinese Vision in Red astible ®. Its pretty magenta red feathery panicles distinguish itself from it peers. It is gifted with a nice compacted and pyramid shape look, extremely enhanced in pot on a balcony. It provides with colour and lightness any border or ground cover planting bed.
Terrace, balcony, ground cover, low border
Packaging

To find out more about our packaging, please visit our young plants' page available from the website header.

Sold by

Available quantity

Delivery from

Desired quantity

Le stock n'est actuellement pas disonible pour ce produit.
All details concerning ASTILBE Little Vision in Red ®:
This new variety is a compacted Astilbe of China Vision in Red ®'s version, that is also a 2016's novelty. It presents a charming summer flowering (between June and August/September) really specific thanks to its magenta feathery panicles that are intense red at the heart (brighter than it peers). Its tightened original, slightly in a pyramidal shape, habit doesn't overreach 40cm high. Its deciduous leaves are very divided and gifted with a deep beautiful green.
How to use ASTILBE Little Vision in Red ®?
This perennial plant perfectly suits to little gardens thanks to its small size. ASTILBE Little Vision in Red ® will magnify any balcony or terrace, as well as rockery, low border or ground cover planting bed. It is also gifted with a graphic and triangular habit which makes it a great pot plant. We plant about 6 per square metre.
What advices to achieve the ASTILBE Little Vision in Red ®'s growth ?
This variety is quite dry-resistant. It is very rustic (until -15°C) too. We choose a sun exposure or a semi shady one. We do not forget to water it if it grows in pot or in widow box. In the spring, we cut wilted flowers so as to boost its growing.