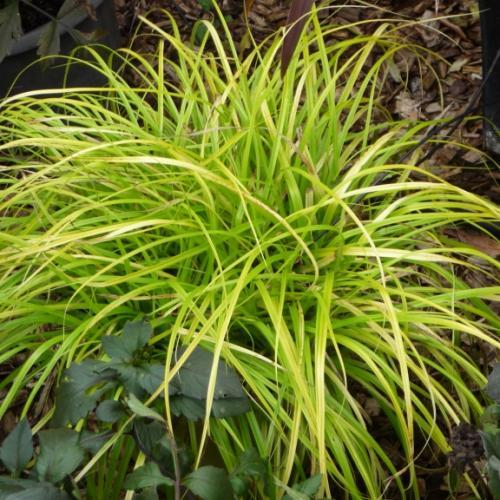 Carex oshimensis Everillo ® is an amazing variety of carex with a lemon yellow foliage. Its thin leaves take a very fresh and luminous color. This variety suits very well for floral compositions in planters, in borders or in planting beds. It grows in a fresh and well-drained soil, in partial shade to bring its beautiful lemon colour out.
September to October
Brown
Packaging

To find out more about our packaging, please visit our young plants' page available from the website header.

Sold by

Available quantity

Delivery from

Desired quantity

Le stock n'est actuellement pas disonible pour ce produit.
All details concerning Carex oshimensis Everillo ® :
Carex oshimensis Everillo ® is a really charming carex's selection that is gifted with a light foliage (even if it is not variegated). Its entire ribbon-shaped leaves are shining lemon yellow. This variety is also loved for its sophisticated habit and its light tufts' look. Nevertheless, it has a very humble flowering, in upright spikes that cover its foliage between September and October. Carex oshimensis Everillo ® is a Globe Planter's variety.
How to use Carex oshimensis Everillo ® ?
The elegant Carex oshimensis Everillo ®'s habit makes it the perfect landscaping projects' plant, that play with different colours and shapes. It grows well in pot on a terrace, in border or in low planting bed. Smaller than its peers, this variety doesn't overreach 15cm high and 30cm width. It grows in rather fresh and well-drained soils, and suits to every sun exposures from a sunny to a shady one.
What advices to achieve the Carex oshimensis Everillo ®'s growth ?
5 plants per square metre is enough for a ground cover use.