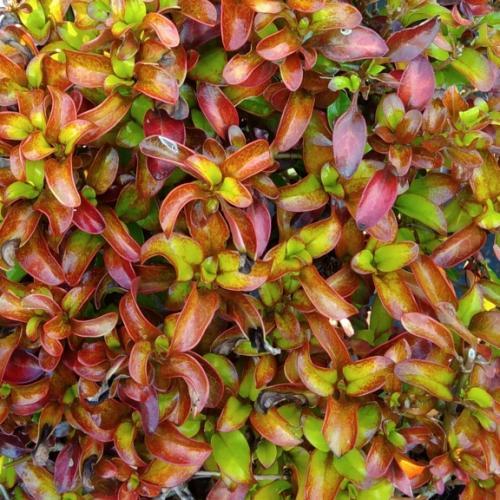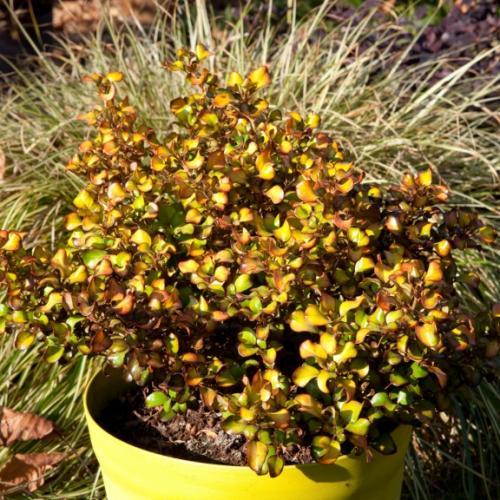 Coprosma Pina Colada ® is a true flame in the garden ! Its evergreen and glowing foliage dresses itself with a myriad of mainstream yellow cunningly reflects (we also called it the mirror plant). Its tangy colours (yellow, orange, green) change throughout the seasons and provide with a lot of joy the garden. Vigorous and compacted, it looks really good in low hedge, isolated or in large sun exposed decorative pot. It withstands sea spray as well as heat. This is a Globe Planter's variety.
August to September
White
Packaging

To find out more about our packaging, please visit our young plants' page available from the website header.

Sold by

Available quantity

Delivery from

Desired quantity

Le stock n'est actuellement pas disonible pour ce produit.
All details concerning Coprosma Pina Colada ® :
This coprosma's variety (also known as the "mirror plant" due to its myriad of reflects) is gifted with a surprising range of tangy colours, mainly yellow : indeed pina colada is a delicious cocktail made with pineapples ! It comes from New Zealand, vigorous, evergreen and compacted (it reaches about 1.20m high and 1.20m width) it has a gaudy foliage that changes thoughout the seasons. Its shining leaves oscillate between yellow, green, orange and red... As a result it looks like a real large flame. Coprosma Pina Colada ® is gifted with a discreet flowering between August and September. This is a Globe Planter's variety.
How to use Coprosma Pina Colada ® ?
Coprosma Pina Colada ® is very decorative and at the same time easy to maintain. It grows in low hedges, large vats on terrace or balcony, in shrubs' planting bed, as well as isolated so as to fully enjoy its dense and flaming habit.
What advices to achieve Coprosma Pina Colada ®'s growth ?
It is heat and sea spray-resistant, nevertheless, it is just rustic until -5°C. We offer it a drained soil, as well as a sun exposure. Perfect at the seaside. We cut it in autumn in order to adjust its rounded habit. We protect it in case of cold wind. We also water it if it grows in pot.