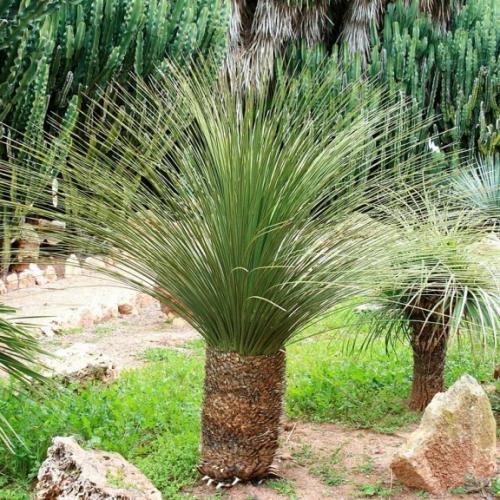 DASYLIRION serratifolium originally cames from Mexico, exotic and as the same time elegant, rustic and resilient. Its bluish green leafy foliage raises over time upon a large and strong trunk, which gitfed it with a nice figure that looks like a palm tree. After several years, huge creamy white inflorescences arise from the tuft.
Pot, Mediterranean planting bed, rockery, rock garden
Packaging

To find out more about our packaging, please visit our young plants' page available from the website header.

Sold by

Available quantity

Delivery from

Desired quantity

Le stock n'est actuellement pas disonible pour ce produit.
All details concerning DASYLIRION serratifolium :
This variety is gifted with upright leaves, blue green, that ending with little white filaments' duster. With age, it forms a large and vigorous trunk at the bottom of the leaves' tuft, wich provides it with a graphic and very elegant aspect (just like a "Mexican totem", where it comes from). Its growing is very slow. It reaches about 2m high after more than 10 years, therefore, it suits perfectly to small spaces. With maturity, it dresses itself with huge creamy white flowers.
How to use DASYLIRION serratifolium ?
It grows in gravels' garden, rockery, as well as in Mediterranean planting bed. We will fully enjoy its modern look with a large decorative pot on a balcony or a terrace (with a sun exposure). Combined with yuccas and agaves, some cousins, it is amazing or also with dasylirion longissimum, it offers a great "collection" effect.
What advices to achieve the DASYLIRION serratifolium's growth ?
This Dasylirion is easy to grow. Rustic in dry area (until -12°C), nevertheless it doesn't withstand excessive water. We choose a drained soil and we protect it from cold winds. It is very dry-resistant. It absolutely loves the sun.