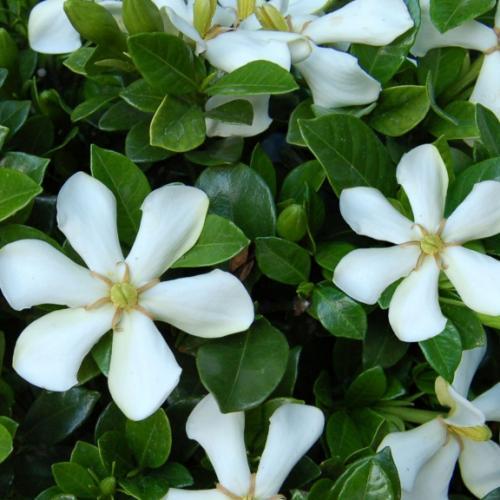 GARDENIA jasminoides Highligts Pinweel ® is a floriferous gardenia, rustic and evergreen. It has little white star shape flowers, really perfumed that will fill with fragrance your garden between June and September. We take it in a passage to fully enjoy its perfum and its pleasant shape. In case of potted growing we water it well.
Pot, planting bed, border
Packaging

To find out more about our packaging, please visit our young plants' page available from the website header.

Sold by

Available quantity

Delivery from

Desired quantity

Le stock n'est actuellement pas disonible pour ce produit.
All details concerning GARDENIA jasminoides Highlights Pinweel ® :
This gardenia is gifted with little white star shaped flowers (close to jasmines' ones, as it name indicates us !) and is deliciously fragrant at the spring end and during all the summer, sometimes even at the autumn beginning.They nicely contrast with its evergreen and dark green foliage. They are pretty in bunches. This shrub is vigorous and gifted with a rounded habit, it reaches about 120cm high and just a little less width.
How to use the GARDENIA jasminoides Highlights Pinweel ® ?
GARDENIA jasminoides Highlights Pinweel ® grows perfectly in decorative pot, possibly mixed with other flowers. We plant it next to path, in border or close to a terrace/courtyard in order to enjoy its elegance and gorgeous flowering and fragrance.
What advices to achieve the GARDENIA jasminoides Highlights Pinweel ®'s growth ?
We offer it a direct sun exposure or a semi shady one. We choose a well-drained soil, possibly acidic. We water it regularly, especially in case of pot growing. It grows well indoor, close to a window. We cut wilted flowers. It is amazingly rustic for a gardenia.