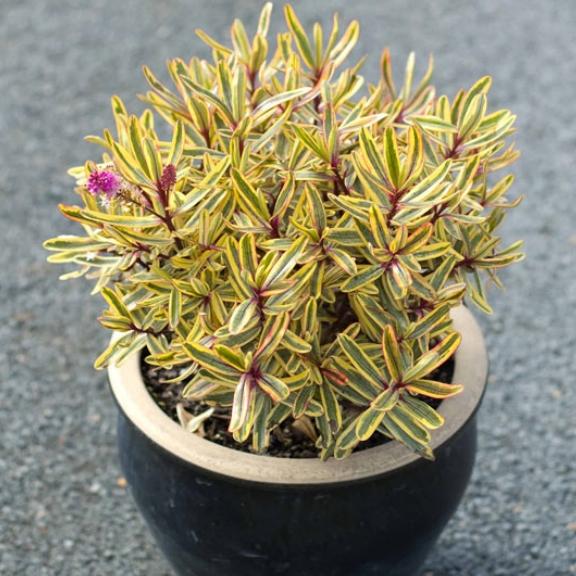 Hebe Jewel of the Nile ® is a beautiful brightly colored shrub, with changing colors throughout the year. Its persistent variegated foliage, very bright, and its pink-purple and white summer flowering brings an added touch of colors. This variety looks good in a pot on a balcony or on a terrace, but it can also be planted in open ground.
Border, planting bed, potted
Packaging

To find out more about our packaging, please visit our young plants' page available from the website header.

Sold by

Available quantity

Delivery from

Desired quantity

Le stock n'est actuellement pas disonible pour ce produit.
All details concerning Hebe Jewel of the Nile ® :
Hebe Jewel of the Nile is a gorgeous shrub that provides with colours the garden throughout the year. The flowering is gifted with red pink flowers in small clusters during the summer. Its leaves are lanceolate and glossy. Its foliage is stunning : green with creamy yellow on their side, it dresses itself with ochre and purple since the beginning of autumn. It is very decorative and colourful even during the coldest mounths of the year. Jewel of the Nile ®'s variety is more disease-resistant than its peers and also withstands quite well pollution and sea spray.
How to use Hebe Jewel of the Nile ® ?
Medium sized (80cm x 80cm), Hebe Jewel of the Nile ® offers colours to terraces and balconies where it will be protected from cold.
What advices to achieve the Hebe Jewel of the Nile ®'s growth ?
This variety is not very rustic and must be protected when it is cold, it doesn't suit to long frosts' areas.