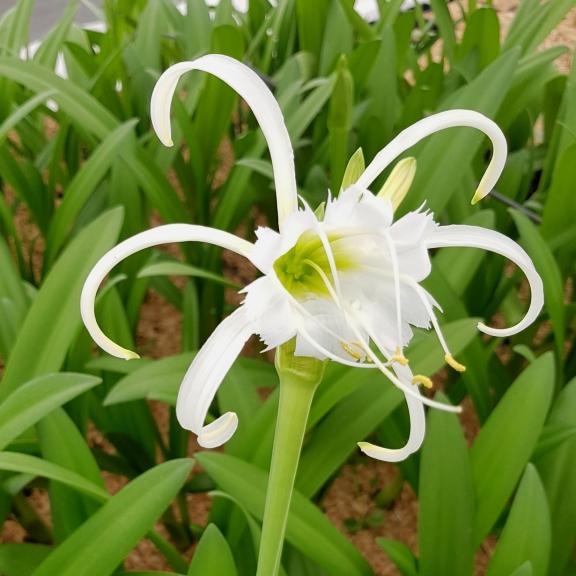 Hymenocallis x festalis, also called 'Spider lily', is a bulb plant with a delicate flagrant white flowering. The flower petals, long and curved, explain the name of the plant. With its bright green foliage and its flowers grouped by 5 or 6 between June and August, this elegant herbaceous will be noticed in gardens, even in a dry soil.
Packaging

To find out more about our packaging, please visit our young plants' page available from the website header.

Sold by

Available quantity

Delivery from

Desired quantity

Le stock n'est actuellement pas disonible pour ce produit.
All details concerning Hymenocallis x festalis :
Hymenocallis x festalis, also known as spider Lily" or "Peru's daffodil", is a gorgeous grass gifted with a very recognisable flowering. Its pure elegant white with green at the heart flowers, remind us from the spider's legs (where its nickname comes from). Its flowering is shaped like umbels that can reach more than 60 cm high. Flowers are also nicely perfumed. Hymenocallis x festalis comes from Central and South America tropical areas.
How to use Hymenocallis x festalis ?
Hymenocallis x festali, suits perfectly to landscape garden, in pot on a terrace or a balcony, with its specific flowering as well as its upright habit. It is not very rustic (until -6°C) and fits well to climate saved from the cold. One of this variety's asset is that it withstands dry soils.
What advices to achieve the Hymenocallis x festalis' growth ?
Hymenocallis x festali needs watering after its planting.