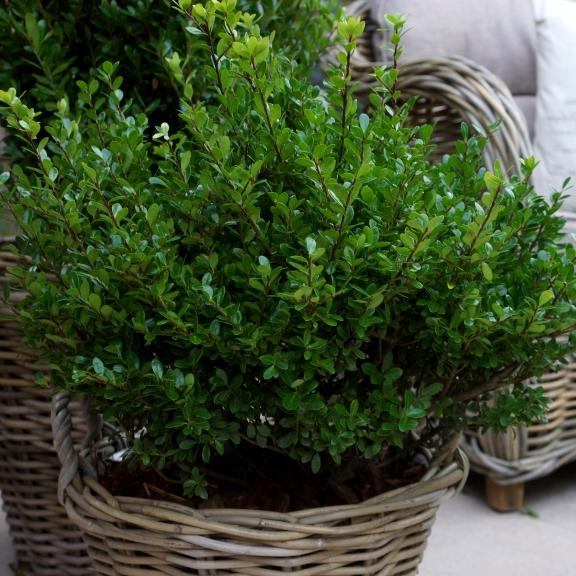 Ilex crenata Luxus Globe ® is a Ilex variety with a dark green persistant foliage keeping its color all year long and a ball-shaped habit. It looks good in pot thanks to its small size, and its well defined habit make it an intesresting choice for landscaping projects. This variety also has a good resistance to diseases.
Border, ball's shape balcony, terrasse
Packaging

To find out more about our packaging, please visit our young plants' page available from the website header.

Sold by

Available quantity

Delivery from

Desired quantity

Le stock n'est actuellement pas disonible pour ce produit.
All details concerning Ilex crenata Luxus Globe ® :
Ilex crenata Luxus Globe ® is gifted with a very specific evergreen tough dark green leaves' foliage that remind us the boxwood's one, and also with a compacted ball shaped habit. This is a male plant, therefore it doesn't grow. Ilex crenata Luxus Globe ®'s variety is a cousin of the Ilex Luxus ®'s family, that are three : Lingold ®, Globe ® and Spire ®.
How to use Ilex crenata Luxus Globe ® ?
Rustic and disease-resistant, Ilex crenata Luxus Globe ® suits to diverse environments. Its little size (about 50cm x 50cm) and its ball shaped habit allows it to small spaces as well as pots. This is a boxwood substitute, indeed, it looks like it that is really great in cut hedges, on top of that it is more disease-resistant.
What advices to achieve the Ilex crenata Luxus Globe ®'s growth ?
You can realise topiaries with a regular cut. Ilex crenata do not suit to calcareous soils.