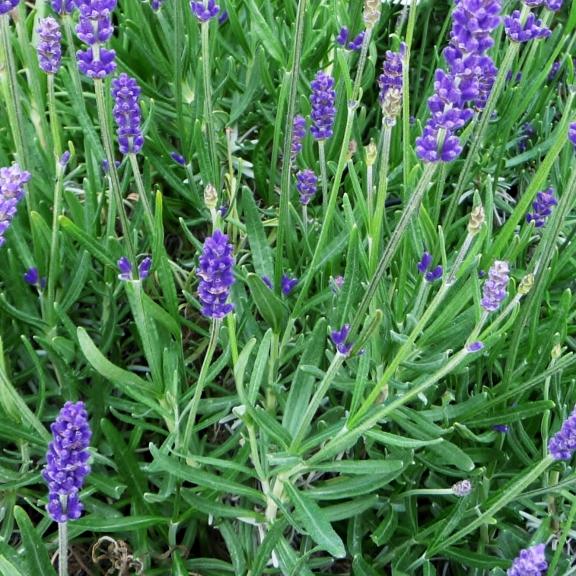 Variety with a dark flowering reminding the Hidcote cultivar, Lavandula angustifolia Anna ® has the advantage to resist better to diseases. With its nuanced flowering thanks to the bright purple of the buds and the pastel colour of mature flowers, and its persistent silvery green foliage, this variety looks good in pot, in beds, in rock gardens or in border.
Packaging

To find out more about our packaging, please visit our young plants' page available from the website header.

Sold by

Available quantity

Delivery from

Desired quantity

Le stock n'est actuellement pas disonible pour ce produit.
All details concerning Lavandula angustifolia Anna ® :
Long flowering's lavender, that lasts throughout the summer, Lavandula angustifolia Anna ®'s flowering is as dark as the Hidcote variety's one. Its purple flowers are also perfumed and very melliferous. They refresh themselve from the beginning of June to the end of August, what leads to a long bright and shining flowering. It is gifted with an evergreen silver green foliage. Lavandula angustifolia Anna ® is also known for its disease-resistance, more importante than the Hidcote Lavander's one.
How to use Lavandula angustifolia Anna ® ?
Thanks to its rounded habit and its small size (sometimes its flowers exceed 50cm high), therefore Lavandula angustifolia Anna ®'s variety suits perfectly to pot planting or window box's ones. It loves the sun and withstands dry soils, this lavender is perfect in Mediterranean gardens as well as in rockeries.
What advices to achieve the Lavandula angustifolia Anna ®'s growth ?
We advise you to cut dried flowers, so as to maintain a compacted habit. This cut flowers could be used for their delicious fragrance.