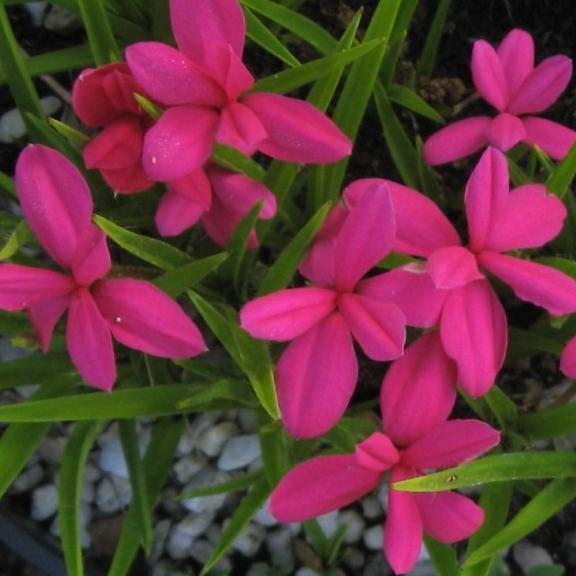 Perennial in tuft with a dazzling pink flowering, Rhodohypoxis milloides Claret is a plant with numerous qualities. Its linear foliage remains the one of grasses. Its little star-shaped flowers, which appear between May and September, are bright pink. This variety makes magnificent flower pots, alone or with other perennials producing coloured flowering.
Vegetal cover, rockery, pot
Packaging

To find out more about our packaging, please visit our young plants' page available from the website header.

Sold by

Available quantity

Delivery from

Desired quantity

Le stock n'est actuellement pas disonible pour ce produit.
All details concerning Rhodohypoxis milloides Claret :
Rhodohypoxis milloides Claret is a charming perennial gifted with a shining pink flowering. Its deciduous and gramineous foliage looks like a tender green grass's one. Its flowering lasts during a long period of time, since the beginning of May, until September. Its beautiful pink star shaped flowers proliferate in the foliage, which creates a very aesthetic flower cover. Its specific flowers have large petals, therefore they hide their heart.
How to use Rhodohypoxis milloides Claret ?
Rhodohypoxis milloides Claret is a gorgeous planting bed that provides with a lot of colours the garden. Its small size (10cm x 10cm) enables it to create a nice vegetative cover, in sunny areas and rather mild region because it is not very rustic (not under -5°C). It illuminates terraces and balconies when it is planted in pot.
What advices to achieve the Rhodohypoxis milloides Claret's growth ?
Rhodohypoxis milloides Claret really appreciates rich and, at the same time, fresh soils. During the winter, it needs a good draining.