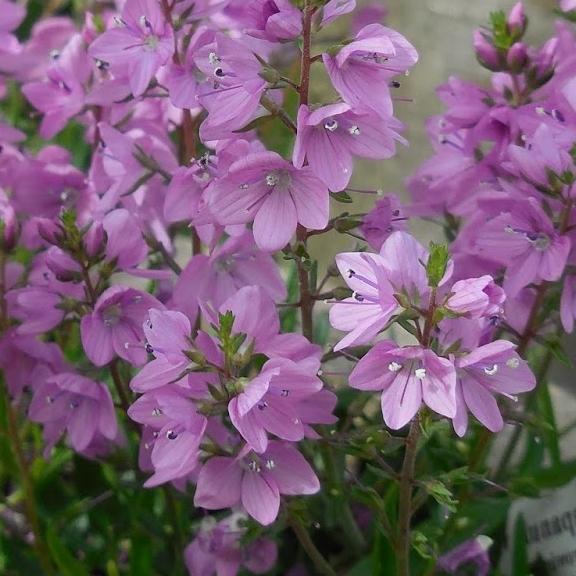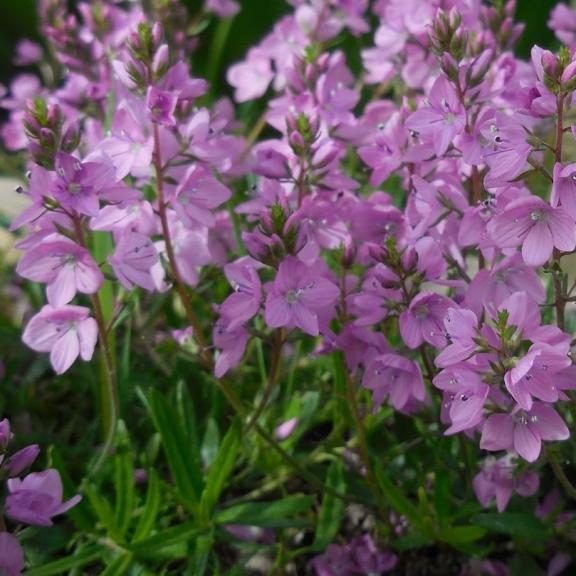 Perennial with a creeping habit and an abundant pale pink flowering, Veronica prostrata Mrs Holt is magnificent in planting beds or in flower pots. Its little flowers are grouped in ears with an upright habit, and appear during the summer. This beautiful variety will be covered of flowers when it is planted with the sun in a fresh ground. Very rustic, it suits for temperate areas.
Ground cover, rockery, pot
Packaging

To find out more about our packaging, please visit our young plants' page available from the website header.

Sold by

Available quantity

Delivery from

Desired quantity

Le stock n'est actuellement pas disonible pour ce produit.
All details concerning Veronica prostrata Mrs Holt :
Veronica prostrata Mrs Holt comes from the alpine region, you will appreciate this perennial for its abundant pink and upright spikes' flowering. It gently grows down to the ground thanks to its creeping half evergreen foliage. It refreshes its flowers troughout the summer. Floral spikes, gifted with an upright habit, emphasise its pretty light pink flowers gathered by its inflorescences.
How to use Veronica prostrata Mrs Holt ?
Its low creeping habit (10cm x 40cm) allows Veronica prostrata Mrs Holt to suits perfectly to ground cover, so as to create a dense vegetative cover in a sunny area. It is also very nice in pot on a terrace. Combined with other alpine's varieties, it will form an amazing ornamental garden. It is very rustic (until -15°C), it goes well in tempered places too.
What advices to achieve the Veronica prostrata Mrs Holt's growth ?
As far as ground cover projects are concerned, we advise you to plant 6 or 7 plants per square metre.