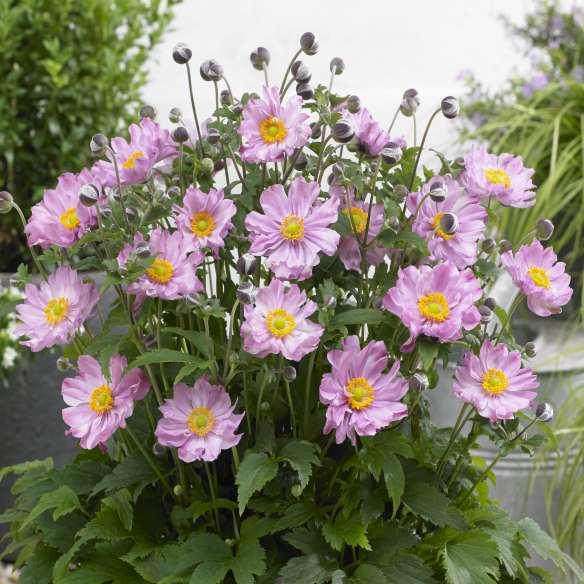 Anemone Fantasy Pocahontas ® is a new variety, awarded in 2012, which combines the qualities. Easy to grow, flowering, hardy down to -15°C, with a vigorous habit, it is ideal for borders, small spaces to brighten up and large flowering pots. Its large pink flowers, abundant and slightly silvery, are elegantly enhanced with a heart of gold.
Mixed-border, border, flower boxes.
Packaging

To find out more about our packaging, please visit our young plants' page available from the website header.

Sold by

Available quantity

Delivery from

Desired quantity

Le stock n'est actuellement pas disonible pour ce produit.
All details concerning Anemone Fantasy Pocahontas®
This Japanese anemone is part of a new series selected for their floridity and compact habit. It is a lovely perennial with abundant flowering. The pink, skirted, golden-hearted flowers appear in late summer and autumn, usually between August and October, or even November. Melliferous, it attracts precious pollinating insects. For its many qualities, ANEMONE Fantasy Pocahontas ® was awarded at the Plantarium in 2012.
How to use Anemone Fantasy Pocahontas® ?
This vigorous, highly flowering, naturally compact plant (maximum height and width of 40 cm) is ideal for modern or country beds, on the lower edge or on a terrace, patio or balcony in a large flowered container. It is associated, for example, with other Japanese anemones or grasses.
What advices to achieve the Anemone Fantasy Pocahontas®'s growth ?
Choose a sunny to semi-shaded exposure. It also supports undergrowth plantations. Rustic but obsolete, it resists well down to -15°C. It is chosen a humus-rich, rather cool, neutral soil. Watering is done in dry weather to promote flowering.