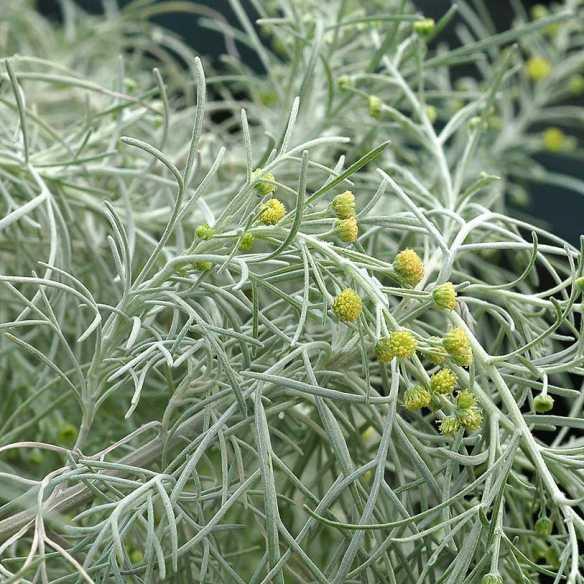 Artemisia Makana Silver ® is a superb novelty among perennial artemisia. Rapidly growing, it forms a beautiful compact tuft of soft, silvery foliage, reminiscent of feathers. It is not very hardy and prefers drained soils and exposure to the sun. Its foliage is fragrant and small yellow flowers appear at the end of summer.
August to september
Yellow
Mixed-border, pots and planters
Packaging

To find out more about our packaging, please visit our young plants' page available from the website header.

Sold by

Available quantity

Delivery from

Desired quantity

Le stock n'est actuellement pas disonible pour ce produit.
All details concerning Artemisia Makana Silver®
A novelty among perennial artemises, with delicately silvery, silky and chiselled foliage. The plant, which grows rapidly, forms a beautiful tuft of foliage at maturity that attracts the eye. Artemisia Makana Silver ® also has many small yellow flowers at the end of summer. Like its cousins, it has a pleasant fragrance.
How to use Artemisia Makana Silver® ?
Robust and flowering, it is reserved for low massifs and large flowering pots. It reaches about 40 cm high and wide. It brings a lot of colour, especially in autumn, when other flowers often fade. It is associated, for example, with echinacea, dwarf roses, lavender and grasses.
What advices to achieve the Artemisia Makana Silver®'s growth ?
With a relatively low rusticity (-5 to -8°C), Artemisia Makana Silver ® is grown in the mild regions (it is well adapted to the seaside climate) where it is protected in winter. We choose a drained soil and exposure to the sun.