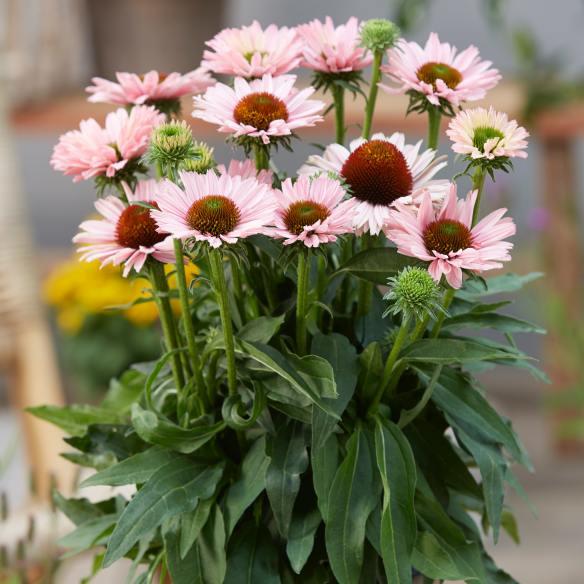 Belonging to the Asteraceae family, Echinacea offers us an abundant flowering on robust floral stems. Its flowers are of a beautiful salmon color that will dazzle your garden from July to September. Easy to grow and maintain, it requires little care and flowers all summer long. In addition, Echinacea is a plant that is believed to have many virtues and is now used in natural medicine.
Juilly to September
Salmon
Border, garden, natural reserves
Packaging

To find out more about our packaging, please visit our young plants' page available from the website header.

Sold by

Available quantity

Delivery from

Desired quantity

Le stock n'est actuellement pas disonible pour ce produit.
All details concerning Echinacea SunSeekers salmon®
Echinacea SunSeekers salmon® is a beautiful perennial that offers us semi-double flowers that take on a pretty salmon pink hue with some soft yellow petals in the center. As the aromatic flowers ripen, their petals turn pale pink. In addition, it will contribute to the ecosystem of your garden. Indeed, pollinators eat its nectar in summer, while songbirds feed on its seeds in winter.
How to use Echinacea SunSeekers salmon® ?
This perennial is perfect for sunny borders, cut flower gardens and nature reserves where it will attract pollinating insects. It can also be combined with other Echinacea. Each plant has different shades, which will create a beautiful tapestry of colours in your garden.
Quels conseils pour réussir la culture de l'Echinacea SunSeekers salmon® ?
Echinacea likes all types of soil but prefers a well drained and rather fresh soil. However, a few actions should improve flowering. We can remove faded flowers as we go along in order to stimulate the appearance of new flowers. In addition, at the beginning of spring, the plant is given a rounded shape by slightly pruning it.