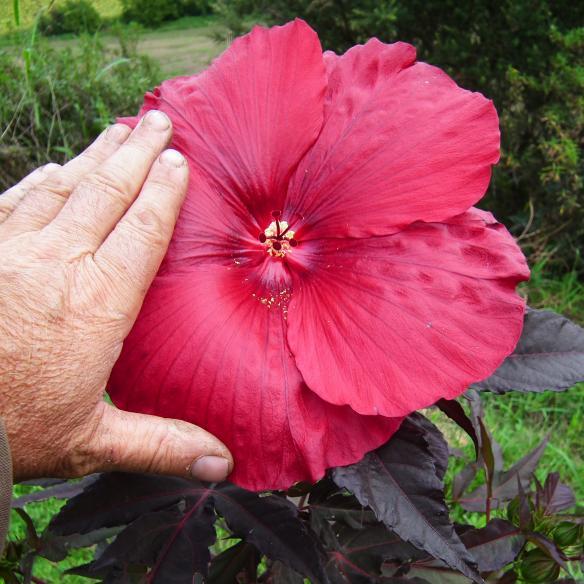 Hibiscus carousel Geant Red ® has a striking bright red bloom that appears in summer. The large flowers, similar to bright butterflies, reach about 25 cm in diameter, the size of a large extended hand. The dark purple foliage forms an elegant contrast with the flowering. Deciduous but rustic, it is watered in summer to invigorate its flowering. A Globe Planter selection.
Hedges, mixed-border, pots for terraces and balconies
Packaging

To find out more about our packaging, please visit our young plants' page available from the website header.

Sold by

Available quantity

Delivery from

Desired quantity

Le stock n'est actuellement pas disonible pour ce produit.
All details concerning Hibiscus carousel Geant Red®
A splendid specimen of marsh hibiscus which, as its name suggests, is distinguished by its huge, voluptuous, dark red flowers, which can reach 25 cm in diameter and resemble giant butterflies and varnishes. The bright flowering (which appears between July and September) forms with the darker purple foliage a very elegant gradation of reds. Deciduous, the hibiscus disappears in winter and leaves again in spring. The Hibiscus carousel Geant Red ® is part of the Globe Planter selection.
How to use Hibiscus carousel Geant Red® ?
Bushy and of medium size (about 1m high and wide), it is suitable for small and large spaces. It is planted in mixed hedges, in rural or modern mixed-border, in pots to illuminate a terrace or balcony.
What advices to achieve the Hibiscus carousel Geant Red®'s growth ?
The plant requires watering in summer to ensure an abundance of flowers. It has good hardiness down to about -15°C. Hibiscus carousel Geant Red ® is not demanding on the soil, as long as it is fresh and prefers exposure to the sun.