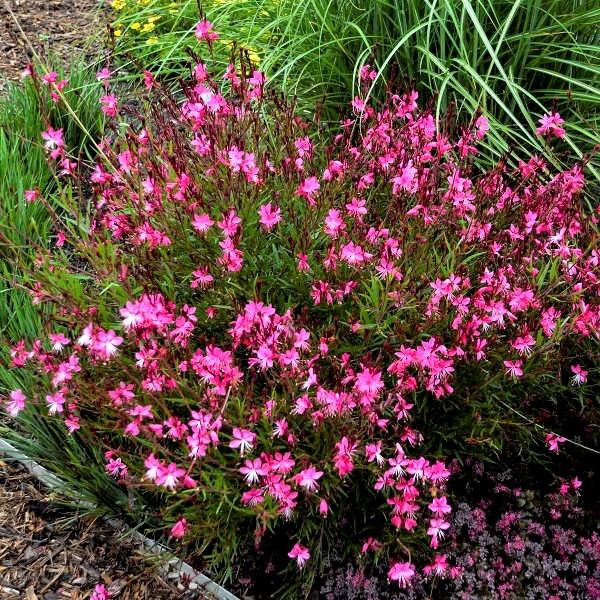 The Gaura belezza Dark Pink is a selection offering a beautiful dark pink bloom. Like all Gauras, the flowering period is seperate over long months, from June to October. These large, frail looking flowering stems will bring lightness and a Bohemian spirit to your garden.
Pots, borders, plantsbeds
Packaging

To find out more about our packaging, please visit our young plants' page available from the website header.

Sold by

Available quantity

Delivery from

Desired quantity

Le stock n'est actuellement pas disonible pour ce produit.
Features of GAURA BELEZZA DARK PINK

Gaura Belezza Dark Pink is a fast-growing perennial, reaching an average height of 70cm. From spring until late autumn this Gaura is covered with light, star-shaped flowers with 5 petals of a deep pink colour on slender stems. It is an easy plant, resistant to drought. It attracts butterflies and offers lightness and romanticism to your garden.
How to use GAURA BELEZZA DARK PINK.

Gaura Belezza Dark Pink is suitable for all uses, in pots on a terrace, in borders or for mass planting in flowerbeds. It combines very well with grasses, sage and agapanthus for a very light effect or in contrast with pruned, topiary forms.
What advice can be given to grow GAURA BELEZZA DARK PINK successfully.

Gaura Belezza Dark Pink is best planted in full sun but tolerates mid-shade and in well-drained soil. It is hardy down to -15°C and drought resistant. The Gaura should be folded down to 10cm at the end of winter.