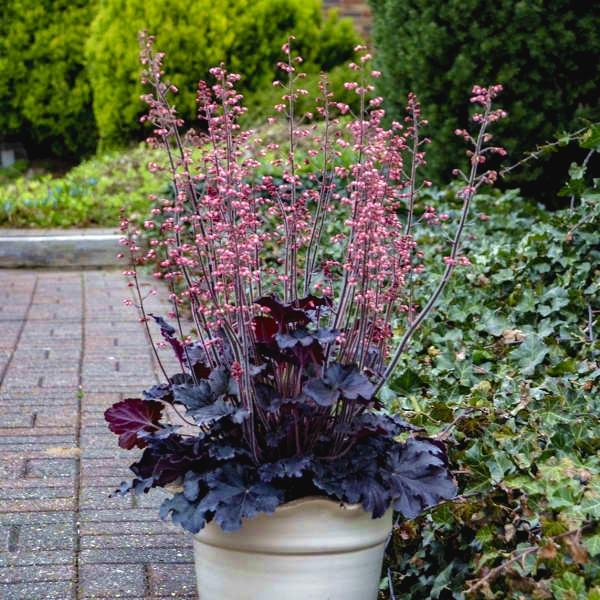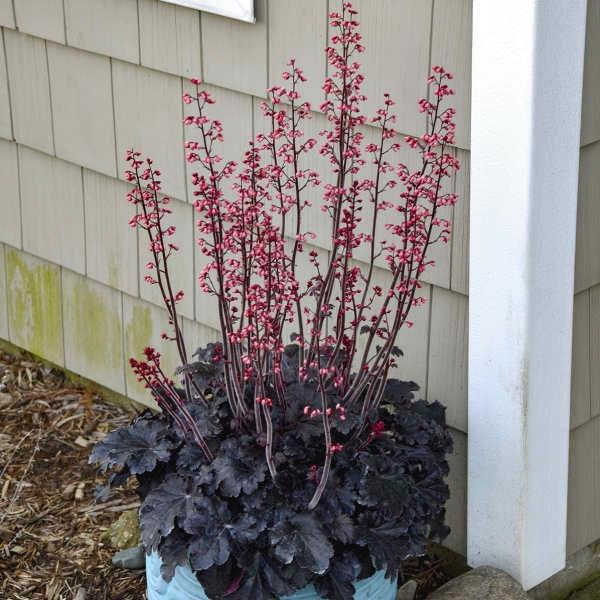 The HEUCHERA Timeless Night® is a remarkable Heuchera that combines colourful foliage and beautiful flowers. It has black foliage with a purple underside. The pink flowers are produced on purple stems.
Border, perenials flowerbed, pots
Packaging

To find out more about our packaging, please visit our young plants' page available from the website header.

Sold by

Available quantity

Delivery from

Desired quantity

Le stock n'est actuellement pas disonible pour ce produit.
Features of the HEUCHERA Timeless Night®.

New collection of Heuchera that combines a remarkable colour of foliage with a beautiful and long flowering period. The Timeless collection includes different colours of foliage such as purple, yellow, black and silver. Each of them has a renewed flowering performance like their predecessors with similar sizes for easy combination.
Heuchere Timeless Night® has shiny, black leaves with a dark purple reverb. The medium pink flowers are produced on purple stems. Flowering creates a beautiful contrast with the foliage. This range of Heuchere keeps its compact and dense clump shape.
How to use HEUCHERA Timeless Night®.

Heucheras are easy to grow and mix easily with most other perennials in the landscape. Because of their low, bushy growth habit, they are often used as a border along paths or in containers.
What are the tips for growing HEUCHERA Timeless Night® successfully?

Heucheras are semi-shade plants, they thrive in cool, moist soil. Prune the wilted inflorescences to stimulate a new one.