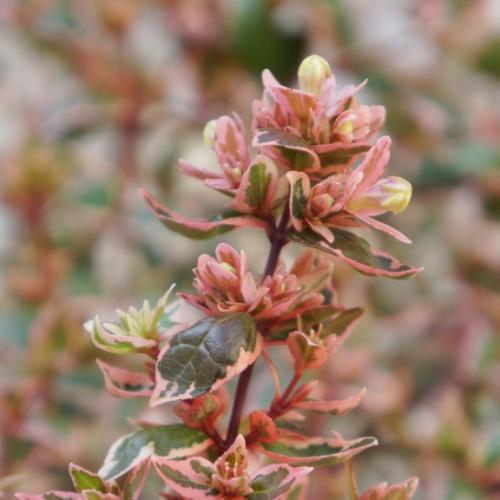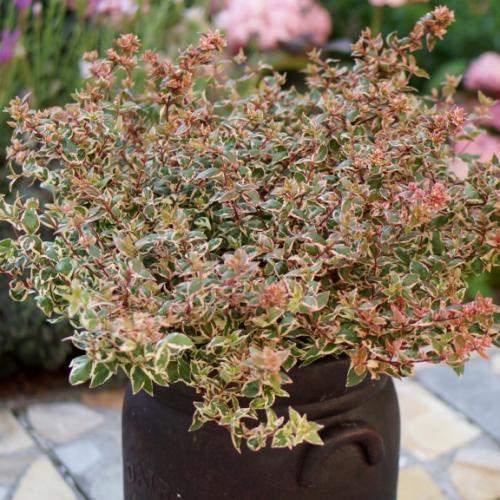 Abelia Magic Daydream ® is a really beautiful selection with a white and pink variegated foliage. This Abelia has a round, regular and compacted habit. For culture in pot or shrubs borders.
Half evergreen
Variegated
Balcony, terrace, shrub's border
Packaging

To find out more about our packaging, please visit our young plants' page available from the website header.

Sold by

Available quantity

Delivery from

Desired quantity

Le stock n'est actuellement pas disonible pour ce produit.
All details concerning Abelia Magic Daydream ® :
This new Abelia comes from the Ron Van Opstal (Dutch)'s selection mutation. It is very specific from the other variegated Abelias thanks to its white and pink variegated foliage. Its pink colour is extremely noticeable in a dry soil and in autumn after the first cold days. It is gifted with a really compacted and dense habit, as well as a regular growing. Its white flowering happens between June and October, it is slightly perfumed. Abelia Magic Day Dream ® received the silver medal at the Plantarium in 2017.
How to use Abelia Magic Daydream ® ?
Thanks to its rounded and regular habit (60cm high x 60cm width), Abelia Magic Daydream grows perfectly in pot on a balcony or a terrace. Combined with small shrubs it makes a gorgeous border. It is extremely decorative throughout the year with its changing variegated foliage. This Abelia is cold-resistant until -12°C : we choose to plant it in non-harsh winter areas.
What advices to achieve the Abelia Magic Daydream ®'s growth ?
We choose a draining substrate, that will foster the pink colour at the autumn beginning. Abelia must be re-potting under a shelter between October to March.