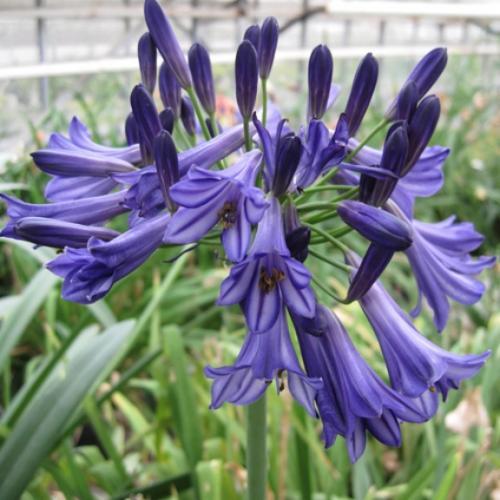 AGAPANTHUS Black Pantha ® is gifted with modern and really original colouring. The umbels are especially high and offers a striking deep blue and shining dark reflection's alloy. Naturally bushy, recently discovered in Australia, the agapanthe Black Pantha ® is not really rustic and must be protected during the winter. Especially adapted to pot's growing.
Balcony, terrace, planting bed
Packaging

To find out more about our packaging, please visit our young plants' page available from the website header.

Sold by

Available quantity

Delivery from

Desired quantity

Le stock n'est actuellement pas disonible pour ce produit.
All details concerning AGAPANTHUS Black Pantha ® :
This agapanthus' variety, recently discovered in Australia, presents stunning colours. Provided with a tardive flowering compared to its peers, at the height of summer (July August), they are gorgeous deep blue flowers galore (nearly black when the flowers are in bud). Umbels are amazing and can reach 1m50 high ! Evergreen, naturally bushy, nevertheless, it is not really rustic (until -5°C) and must be protected in rather harsh winter's area. AGAPANTHE Black Pantha ® is so pretty in cut flowers.
How to use AGAPANTHUS Black Pantha ®?
AGAPANTHUS Black Pantha ® is fantastic in planting bed combined with grasses or other agapanthus. It offers a great modern effect to urban gardens as well as terraces or courtyards because it suits perfectly to vats and window boxes' growing too.
What advices to achieve the AGAPANTHUS Black Pantha ®'s growth ?
We water it well during its growing's period. We choose a sun exposure as well as a drained soil. We remove any stems after the flowering. We also protect it under -5°C. Perfect at the seaside.