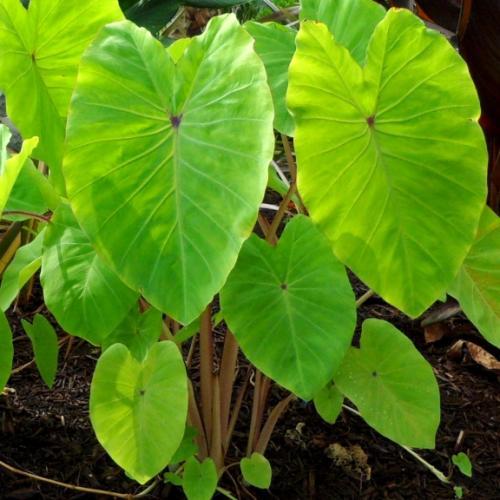 COLOCASIA Red Eyed Gecko ® is named like that because of what is in the middle of its gorgeous and bright lime green foliage, a pink dot just like a gecko's eye. This vigorous and tropical's look selection reaches about 1m20 of height and width. Its spearhead shaped foliage stands off its pink stems. We associate it in wet environment with dark purple-coloured colocasia in order to create a sophisticated constrast.
Indoor, planting bed, along basin, pot
Packaging

To find out more about our packaging, please visit our young plants' page available from the website header.

Sold by

Available quantity

Delivery from

Desired quantity

Le stock n'est actuellement pas disonible pour ce produit.
All details concerning COLOCASIA Red Eyed Gecko ® :
This new colocasia's selection (also known as taro, China cabbage or elephant ear) presents a lime green foliage, extremely light, nearly fluorescent, dark pink at the heart (like a gecko's eye). Its stems, also named cormes, are really sophisticated in pink shades, which creates a nice contrast. Its spearhead foliage is very original and vigorous. In average, COLOCASIA Red Eyed Gecko ® reaches 1m20 height and width (in ideal conditions of growing).
How to use COLOCASIA Red Eyed Gecko ® ?
We fully enjoy its light and exotic look in wet planting bed, along basin or in a high border, as well as in a large well-watered pot, even indoor. Combined with other purple dark foliage colocasia' varieties, COLOCASIA Red Eyed Gecko ® will create a gorgeous exotic aspect's picture.
What advices to achieve the COLOCASIA Red Eyed Gecko ®'s growth ?
We choose a well-wet soil and a semi shady or sunny exposure. Its frost-resistance is amazing for an exotic plant, until -8°C (once it is gently setteled). We water it in case of dryness. It can also grow indoor (we choose a light enough and not very heated place).