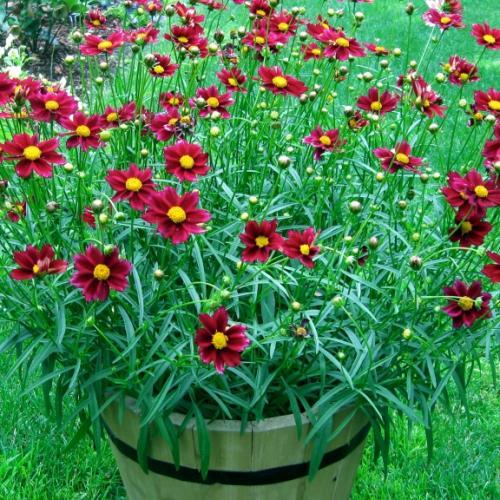 COREOPSIS Mercury Rising ® is an espacially floriferous coreopsis' selection, rustic and gifted with a shape more staggered than its peers (about 60 cm of calibre). The velvet burgundy flowers take turns during the summer and the autumn, they provide with elegance planting bed, border, terrace and rockery. It loves the sun, it is easy to maintain and dry-resistant as well as desease-resistant.
Border, window box, planting bed
Packaging

To find out more about our packaging, please visit our young plants' page available from the website header.

Sold by

Available quantity

Delivery from

Desired quantity

Le stock n'est actuellement pas disonible pour ce produit.
All details concerning COREOPSIS Mercury Rising ®
This coreopsis is gifted with a gorgeous deep velvet red summer flowering, golden yellow in the middle, that is really elegant. There is always new flowers (solar flowers' head) that appear since the beginning of the summer until the autumn over the bright green foliage. Dryness as well as diseases-resistant, and floriferous since the first year, it is very easy to maintain. Its rather smeared look, more than the typical's variety, reaches about 50cm high and 60cm width with maturity. COREOPSIS Mercury Rising ® is deciduous but rustic. Pretty flowers to cut.
How to use COREOPSIS Mercury Rising ® ?
We fully enjoy its intense burgundy coloured flowering in rockeries, banks, planting beds' forefronts, mixed-borders, or in window boxes so as to decorate balconies as well as terraces. Combined with other lighter flowering's coreopsis it is amazing.
What advices to achieve the COREOPSIS Mercury Rising ®'s growth ?
We choose a drained soil and a sun exposure. COREOPSIS Mercury Rising ® is quite rustic, until -15°C. We cut its wilted flowers after its flowering in order to boost its growing.