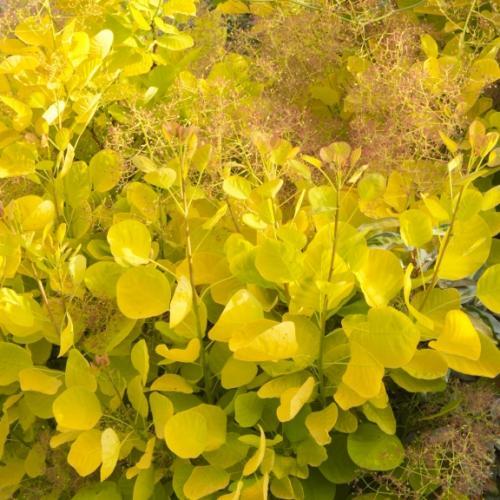 COTINUS Golden Spirit ® is a delicate light explosion. Its soft green and golden leaves turn red during the autumn. Vigorous and leafy, it can reach 5m with optimal conditions and tolerates poor ground. Its little pink coppery flowers shape really airy feather dusters. We will focus on free hedges growing or isolated. It received RHS's Award of Garden Merit.
Planting bed, isolated, hedge, pot
Packaging

To find out more about our packaging, please visit our young plants' page available from the website header.

Sold by

Available quantity

Delivery from

Desired quantity

Le stock n'est actuellement pas disonible pour ce produit.
All details concerning COTINUS Golden Spirit ® :
This Cotinus, also known as the wig's tree according to its pretty flowers, is gifted with nice tender green to golden oval leaves that turn to red when the winter comes. COTINUS Golden Spirit ® covers itself in summer (June to August) with little coppery pink feather shaped flowers. Orangy fruits ripen during the autumn which attracts birds. Light, bushy, vigorous, rustic and easy to maintain, it received a RHS's Award of Garden Merit. It can reach 5m high in ideal conditions.
How to use COTINUS Golden Spirit ® ?
COTINUS Golden Spirit ® grows perfectly isolated (therefore we fully enjoy its leafy habit and its colours), as well as in free hedge, rockery or planting bed's background. It also withstands vat's growing, so as to embellishes any terrace or balcony.
What advices to achieve the COTINUS Golden Spirit ®'s growth ?
Not demanding concerning the soil (calcareous or poor soils are possible), COTINUS Golden Spirit ® loves the sun. It is rustic until about –15°C.