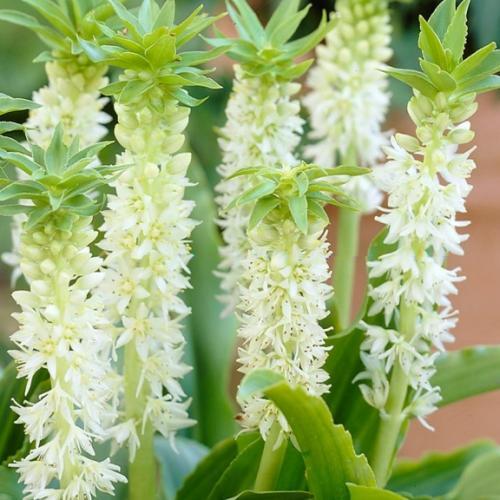 EUCOMIS automnalis is also known as pineapple flower or pineapple lily. Thanks to its growth habit and original flowering, it provides with a fresh and an exotic effect any garden. This yacinth's cousin comes from South Africa, is easy to maintain and rather rustic. It deploys a gorgeous creamy white large ears' shape flowering, surrounded by a hardwood crown just like the pineapple one. It received the RHS award of garden merit.
September to October
White
Rockery, planting bed border, pot
Packaging

To find out more about our packaging, please visit our young plants' page available from the website header.

Sold by

Available quantity

Delivery from

Desired quantity

Le stock n'est actuellement pas disonible pour ce produit.
All details concerning EUCOMIS automnalis :
A really original South Africa native plant, also known as the pineapple flower, or pineapple lily. This beautiful bulbous plant takes part of the hyacinth family, it creates a tender green rosetted foliage, topped with awesome star shaped flowers, that are gathered in large creamy white with green reflects spikes. Flowers spikes are also topped with a leafy crown (just like the pineapple one). Flowers appear at the summer end and in autumn (August's end to October), and are great in a bunch. The fruit-forming is decorative too (pay attention this is a toxic plant). EUCOMIS automnalis received the RHS award of garden merit.
How to use EUCOMIS automnalis ?
We plant it in fresh rockery, rare planting bed's plants (5 plants per square metre) in border, as well as in large pot for an exotic and trendy effect in garden or terrace. With maturity, EUCOMIS automnalis reaches about 60 high.
What advices to achieve the EUCOMIS automnalis' growth ?
EUCOMIS automnalis is easy to maintain and rustic until about -5/-8°C. We protect it in case of extreme cold. We plant it in sun. We choose a rather fresh, rich and draining soil.