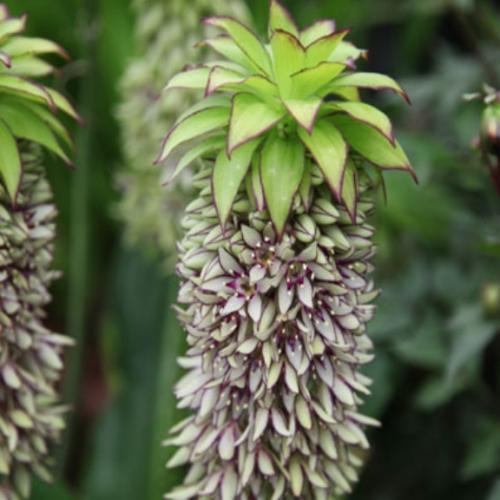 EUCOMIS bicolor is a beautiful pineapple flower (or pineapple lily). It has ribbon-shaped leaves and a growth habit topped with large inflorescences topped with vegetal quiffs (like pineapple's ones) pretty flowering. It also has star-shape bounded with red-purple flowers. Evergreen and rather rustic, it provides with freshness, exoticism and modernity any garden, terrace and balcony.
August to September
White
Rockery, planting bed, border, pot
Packaging

To find out more about our packaging, please visit our young plants' page available from the website header.

Sold by

Available quantity

Delivery from

Desired quantity

Le stock n'est actuellement pas disonible pour ce produit.
All details concerning EUCOMIS bicolor :
Still too rare in gardens, this pretty South African bulbous plant is an amazing hyacinth's cousin. Also known as the pineapple flower or pineapple lily. Its flowering occurs between August and September : its specific floral spike is topped with a vegetative quiff, that evokes the pineapple's top. Its floral stems are speckled with brown and its white flowers are red on the sides. It is gifted with tender green and ribbon-shaped leaves.
How to use EUCOMIS bicolor ?
EUCOMIS bicolor will advantageously flourish in the middle of a planting bed in autumn, and will form a gorgeous decorative pot on a terrace or a balcony. It grows well in borders or fresh rockeries too. With maturity, it reaches about 60cm high.
What advices to achieve the EUCOMIS bicolor's growth ?
We choose a rich and well-drained soil. Pineapple bicolor flower loves sun exposure. It is also insects and diseases-resistant. Easy to maintain and rustic until -7/8°C in a drained soil (this is one of the most rustic variety). We protect it in case of extreme cold.