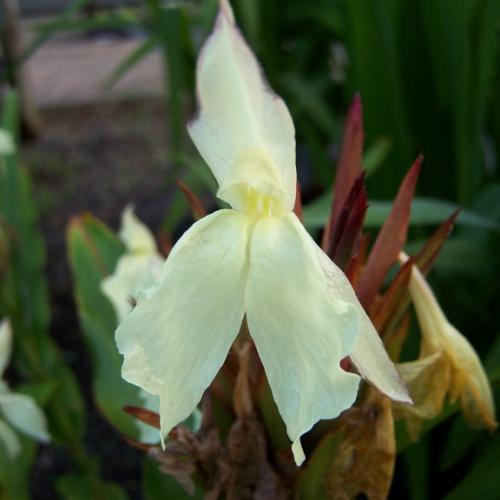 Roscoea Beesiana, also called 'Ginger orchid', is a perennial with a beautiful white and purple flowering like the one of orchids. Between June and October, it produces big creamy white flowers, slightly purple-coloured. The foliage is tender green, with a lanceolate shape. This variety is perfectly adapted to areas with cold winters, thanks to its good frost resistance.
Border, planting bed, pot, cut flower
Packaging

To find out more about our packaging, please visit our young plants' page available from the website header.

Sold by

Available quantity

Delivery from

Desired quantity

Le stock n'est actuellement pas disonible pour ce produit.
All details concerning Roscoea Beesiana :
Even though it doesn't take part of the orchid family, Roscoea Beesiana will be appreciate by the orchid lovers thanks to its coloured and elegant flowering. In the summer, this variety forms upright floral spikes that can reach 50cm high, and carry large white-yellow striped with purple flowers. Its nice light green deciduous foliage is quite elongated and has an upright habit that hangs just a bit. Its Ginger Orchid name comes from the tubers that it creates and enable its regrowing the next spring. Roscoea Beesiana received an Award of Garden Merit, given by the Royal Horticulture Society in 2011.
How to use Roscoea Beesiana ?
Very rustic, it can resist until -20°C, Roscoea Beesiana grows perfectly in temperate areas. Its favourite exposure is partly shady, in flowerbed or in pot.
What advices to achieve the Roscoea Beesiana's growth ?
Roscoea Beesiana needs a fresh soil, summer watering can be needed according to the location and its planting site.