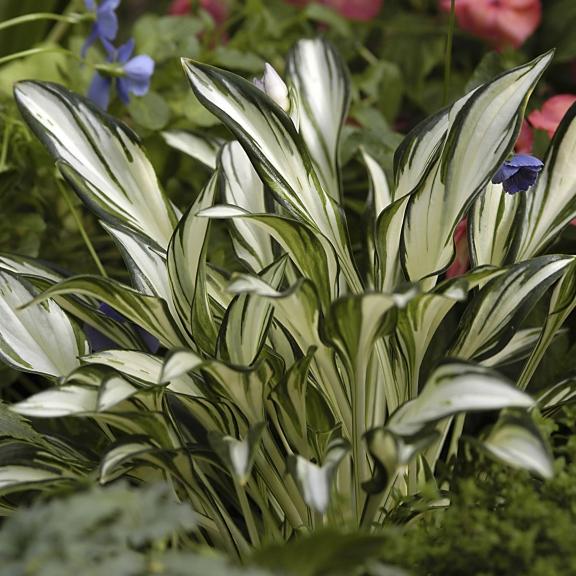 Hosta Fireworks ® is a pretty perennial with a variegated foliage of long creamy white leaves bordered of dark green and a nice purple flowering in spring. This variety is a bright ground cover, with an upright habit, which has the advantage of being very rustic and shade-tolerant. It was rewarded for its qualities by the Royal Horticulture Society in 2012.
Rockery, window box, border
Packaging

To find out more about our packaging, please visit our young plants' page available from the website header.

Sold by

Available quantity

Delivery from

Desired quantity

Le stock n'est actuellement pas disonible pour ce produit.
All details concerning Hosta Fireworks ® :
Hosta Fireworks ® is a shady lover perennial, gifted with very decorative leaves and flowering. Leaves are long and creamy white at the centre with dark green on its side. The flowering is made with small lavender colour flowers, that appear since the beginning of July and lasts until the end of August. Hosta Fireworks ® received an award during the Royal Horticulture Society's Garden Merit in 2012.
How to use Hosta Fireworks ® ?
Slow growing, Hosta Fireworks ® reaches a little size when it is at its best point (25cm x 25cm). This little variety is amazing in pot thanks to its upright habit. Great as well as ground cover with certain aesthetic qualities in shady areas. Very rustic, until -18°C, this Hosta withstands perfectly the frost.
What advices to achieve the Hosta Fireworks ®'s growth ?
Hosta Fireworks ® needs to be protected from a direct sun exposure. It preferes be shaded from the sun, as well as a fresh and well-drained soil.