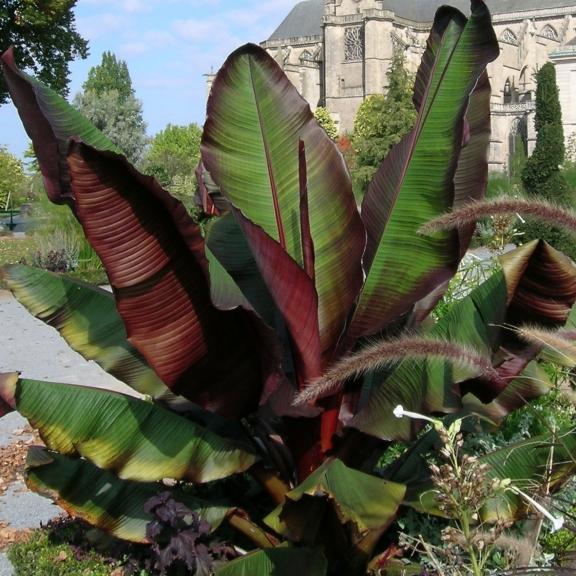 Banana tree with long purple leaves, Musa maurelli is a splendid plant which arouses admiration in gardens. Its leaves with purple almost red tints distinguishes it from other banana trees with green leaves. With its arborescent habit as wide as tall, this variety looks good isolated or in grouped planting.
Planting bed, balcony, terrace
Packaging

To find out more about our packaging, please visit our young plants' page available from the website header.

Sold by

Available quantity

Delivery from

Desired quantity

Le stock n'est actuellement pas disonible pour ce produit.
All details concerning Musa maurelli :
Musa maurelli is a really nice banana tree, gifted with large green and purple red leaves. Its specific leaves look like the other banana trees' ones excepting their colours, indeed, they have an extremely rich colour when they are sunlight exposed. Since June and until September, this variety flourishes in long yellow hanging inflorescences' flowers. Nevertheless, its fruits that follow its flowering are not edible. Just like its peers, this banana tree grows fast.
How to use Musa maurelli ?
Exotic variety, Musa maurelli is not rustic and needs a wet soil. In case of frost, it must be sheltered from the cold. In open ground, this herbaceous plant must be saved for warm winters' climate, Mediterranean or oceanic one. A sun exposure as well as a partly shady exposure suits perfectly to this variety.
What advices to achieve the Musa maurelli's growth ?
We need to look after its substrate' moister, and we advise you to water regularly during dry periods.