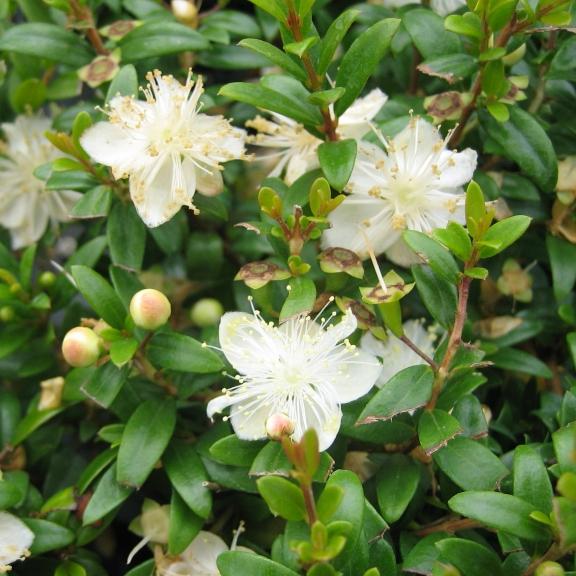 Mediterranean shrub with little tough green leaves and numerous white flowers, Myrtus communis Tarentina or 'Common myrtle' is a beautiful shrub of mediterranean gardens and rock gardens. Low maintenance and drought-tolerant, this variety brings its lovely summer flowering, decorative blue fruits and aromatic foliage to areas with mild winters.
Instead of boxwood, low hedge, pot, planting bed
Packaging

To find out more about our packaging, please visit our young plants' page available from the website header.

Sold by

Available quantity

Delivery from

Desired quantity

Le stock n'est actuellement pas disonible pour ce produit.
All details concerning Myrtus communis Tarentina :
Myrtus communis Tarentina is an aromatic shrub that comes from the Mediterranean region. Its flowering, that lasts from June to September, is made upon with a myriad of little white flowers. Its flowering is followed by the appearance of spherical bluish black fruits. Its is gifted with very small slender leaves. Its really aromatic foliage allows us to extract a perfumed essential oil. Myrtus communis Tarentina received an Award of Garden Merit during the Royal Horticulture Society's event in 1993.
How to use Myrtus communis Tarentina ?
Thanks to its origin, Myrtus communis Tarentina often exists in Mediterranean garden. Its is amazing in rockery, or in borders, as well as in low hedges according to its small size (1,5m x 1,5m) and its compacted habit. This Myrthus withstands well the cut, we can create cut hedges. Rustic until -12°C, this variety stands moderatly the cold. It accepts every sort of soil, acidic to little calcareous, as well as every exposure, sunny or partly shady.