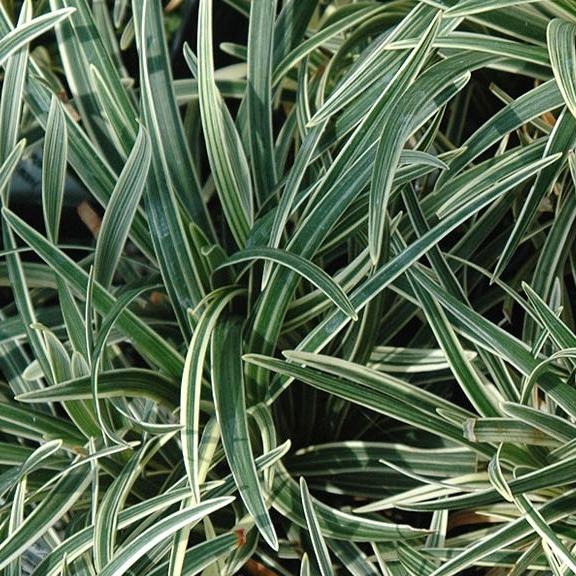 Grass-like perennial with a luminous thin variegated foliage, Ophiopogon jaburan vittatus also has a nice white star-like flowering during the summer and remarkable bright blue fruits. Vigorous and rustic, this plant is perfect as a ground cover of shady areas thanks to its dense tuft habit. It also decorates beds and borders all year round.
Ground cover, border, window box
Packaging

To find out more about our packaging, please visit our young plants' page available from the website header.

Sold by

Available quantity

Delivery from

Desired quantity

Le stock n'est actuellement pas disonible pour ce produit.
All details concerning Ophiopogon jaburan vittatus :
Ophiopogon jaburan vittatus is a light variegated foliage Ophiopogon's variety, just like the Ophiopogon japonicus Albovariegata's one. Sometimes nicknamed "Dragon's beard", it forms dense tufts gifted with thin and long leaves that look like grasses. This evergreen foliage is green and creamy white variegated. Little white flowers flourishes in the foliage between July and September, that have an upright habit. Its has an amazing small bright blue berries fruit-growing, that is exceptional.
How to use Ophiopogon jaburan vittatus ?
Like it peers, Ophiopogon jaburan vittatus is a great decorative ground cover, that provides with interest shady areas, shrubs layers, as well as wooded one. It is rustic, therefore it suits to different planting projects, for warm winters or cold ones. Once it is settled, this cultivar is not demanding at all.
What advices to achieve the Ophiopogon jaburan vittatus' growth ?
You should plant 9 Ophiopogon jaburan vittatus per square metre in order to obtain an uniform ground cover.