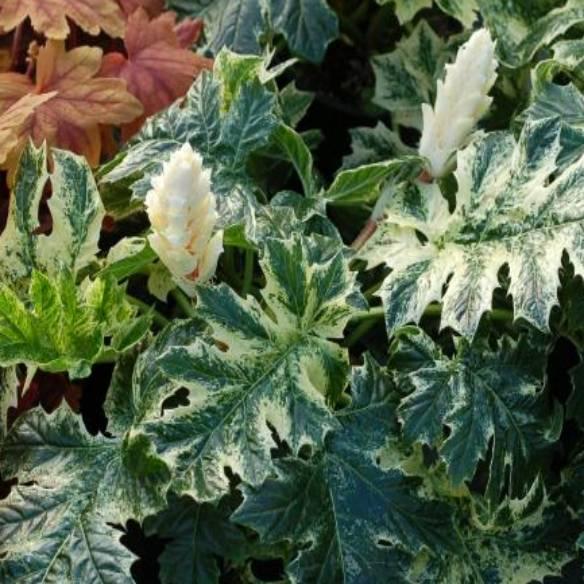 Acanthus Mollis Tasmanian Angel® has spectacular green foliage and creamy white, making it a highly sought-after perennial plant. It also offers us magnificent white and pink flowers during its flowering period from July to August.
Mixed-Border, border, undergrowth
Packaging

To find out more about our packaging, please visit our young plants' page available from the website header.

Sold by

Available quantity

Delivery from

Desired quantity

Le stock n'est actuellement pas disonible pour ce produit.
All details concerning Acanthus Mollis Tasmanian Angel®
This variety of perennial plant belonging to the acanthaceae family is characterized by its large semi-persistent green leaves mixed with cream that will illuminate your garden. Its flowering takes place from July to August, which will allow you to appreciate the magnificent white and silver flowers with pastel pink bracts.
How to use Acanthus Mollis Tasmanian Angel®
Acanthus is the queen of mixed-border. It can indeed be combined with other summer flowering perennials such as Salvia Canariensis or shrubs while helping to create a remarkable ornamental result. You can also plant it in isolation on a hill for example, it will give a bushy appearance to your site.
What advices to achieve the Acanthus Mollis Tasmanian Angel®'s growth?
In order for your Acanthus Mollis Tasmanian Angel® to grow, leave a space of about 60cm between each plant. It is planted in the ground in spring, preferably in well-drained soil. If the strain becomes too large, it can be divided in autumn and winter. Feel free to cut the flowers and dry leaves from it in order to keep its decorative aspect.