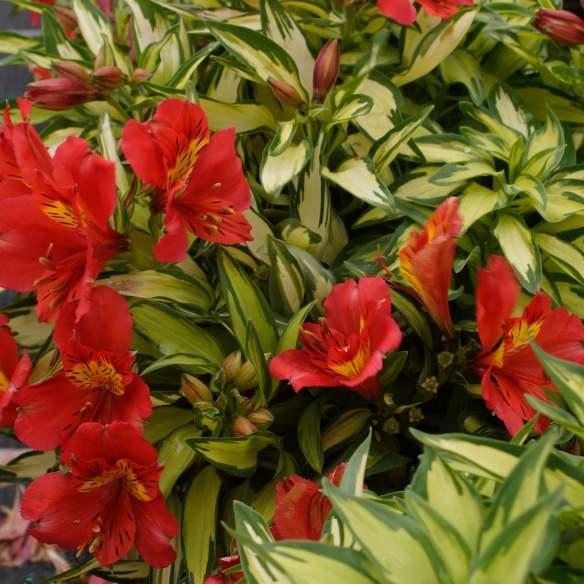 Alstroemeria Little Miss Zoé® is admired for its pinkish-red flowers and beautiful cream and green foliage that creates a fantastic contrast. Its growth is compact, creating a small dome of foliage with a mass of flowers held just above the foliage. In addition, it is very robust and easy to grow.
June to September
Red-pink
Packaging

To find out more about our packaging, please visit our young plants' page available from the website header.

Sold by

Available quantity

Delivery from

Desired quantity

Le stock n'est actuellement pas disonible pour ce produit.
All details concerning Alstroemeria Little Miss Zoé®
Alstroemeria is also called Peruvian Lily or Inca Lily, is a new dwarf and compact variety that has beautiful variegated foliage, creamy white, soft green and dark green monochrome. This one seduces by its delicately pinkish red flowers whose center is yellow and tigered with small black spots. The Alstroemeria also forms pretty little green cushions 30cm high by 30cm wide
How to use Alstroemeria Little Miss Zoé®
This Peruvian Lily can be used in a mixed-border. To do this, plant several plants or mix them with other perennials such as Dahlias, Cannas, Hemerocallis or Gauras as well as with Grasses such as Stipas, Miscanthus and Muhlenbergia Cappillaris.
What advices to achieve the Alstroemeria Little Miss Zoé®
In order to flourish, it must be planted in fertile, moist and well-drained soil with full sun to semi-shaded exposure. It must be watered regularly and its wilted flowers cut to produce new ones. The Alstroemeria Little Miss Zoe® is a deciduous perennial that is easy to cultivate and disappears in Winter. It is hardy down to -7°C. In slightly cold regions, it is thought to be protected in winter with straw so that the plant can restart in good conditions in Spring. It is avoided to move it, because once installed, it becomes more and more flourishing.