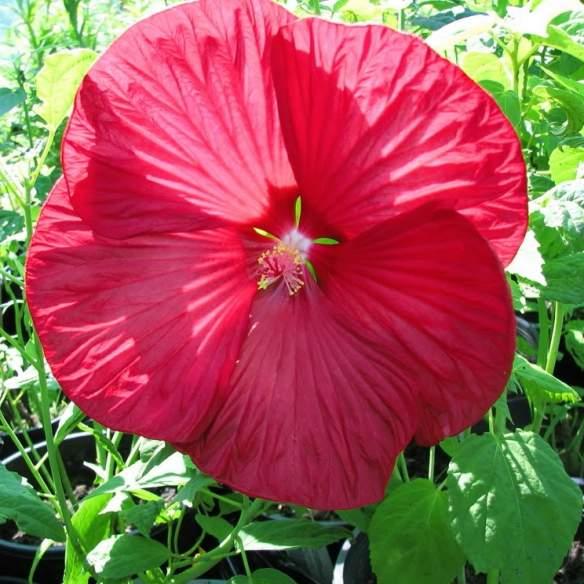 Hibiscus Extreme Magenta ® is one of its hibiscus varieties that is absolutely spectacular because of its blooms. Its large flowers (about 25 cm in diameter) are of a very beautiful Magenta red, as in a painting. They appear between July and October. We like its hardiness and resistance, as well as its ease of cultivation. It is reserved a fresh ground and a sunny exposure, sheltered from the wind, to fully enjoy its splendour.
Hedges, mixed-border, pots for terraces and balconies
Packaging

To find out more about our packaging, please visit our young plants' page available from the website header.

Sold by

Available quantity

Delivery from

Desired quantity

Le stock n'est actuellement pas disonible pour ce produit.
All details concerning Hibiscus Extreme Magenta®
This Hibiscus, attracts attention with its spectacular flowering, of a beautiful Magenta red, pulling on pink, which appears between July and September or October. The deciduous green foliage forms an interesting contrast with the flowers, which it highlights.
How to use Hibiscus Extreme Magenta® ?
Hibiscus forms a beautiful bush of about 1m in size. It likes both in mixed-border, hedges (it is however obsolete), cultivation in pots and pans to bring colour and vivacity to terraces, patios and balconies. It brings an exotic touch to gardens, with its giant flowers, while being rather resistant and easy to grow.
What advices to achieve the Hibiscus Extreme Magenta®'s growth ?
It is reserved a rather sunny exposure (see semi-shade), sheltered from the wind, and a humid ground. In summer, water is used in case of drought or pot cultivation to encourage flower growth. Hibiscus Extreme Magenta ® is very hardy up to about -15°C. You can prune the branches in November.