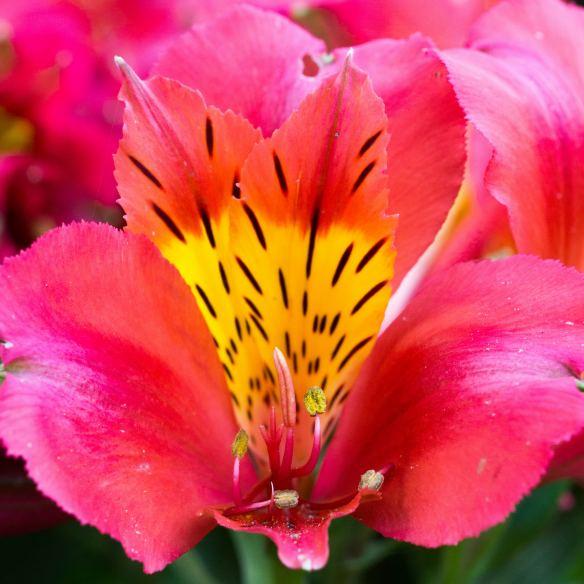 Alstroemeria Little Miss Tara ® is a variety of Incan lilies that are both compact and very flowering. You can enjoy its large orange-red lily flowers all summer long, from May to October. It brings colour and elegance to low massifs as well as balconies and patios. Not very hardy and obsolete, it is protected in winter in the event of extreme cold.
Bins, balconies, patios, mixed-border,
terraces, low borders.
Packaging

To find out more about our packaging, please visit our young plants' page available from the website header.

Sold by

Available quantity

Delivery from

Desired quantity

Le stock n'est actuellement pas disonible pour ce produit.
All details concerning Alstroemeria Little Miss Tara®
This lilac of the Incas is a very decorative and colorful perennial, with a rather fast growth. Its characteristic funnel-shaped flowers recall the elegance of the lily. They are very brightly coloured, orange-red, with a yellow heart speckled with dark red. The abundant flowering lasts from spring to autumn. The soft green foliage of Alstroemeria Little Miss Tara ® has lapsed.
How to use Alstroemeria Little Miss Tara® ?
Its compact and very elegant habit reaches about 30 cm in height and width, including flowering. Covered with large flowers all summer long, Alstroemeria Little Miss Tara ® is a plant of choice to decorate your mixed-border as well as your borders, but also terraces and balconies well oriented.
What advices to achieve the Alstroemeria Little Miss Tara®'s growth ?
We prefer exposure to the sun, even semi-shade. We protect or return in winter in case of extreme cold (its hardiness is about -7°C). We choose a rather drained soil, but fresh. You can cut the wilted flowers and clean the plant in spring to favour growth and flowering.